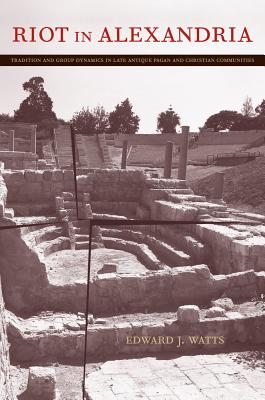 Riot in Alexandria (Hardcover)
Tradition and Group Dynamics in Late Antique Pagan and Christian Communities (Transformation of the Classical Heritage #46)
University of California Press, 9780520262072, 312pp.
Publication Date: May 4, 2010
Other Editions of This Title:
Paperback (2/23/2017)
* Individual store prices may vary.
Description
This innovative study uses one well-documented moment of violence as a starting point for a wide-ranging examination of the ideas and interactions of pagan philosophers, Christian ascetics, and bishops from the fourth to the early seventh century. Edward J. Watts reconstructs a riot that erupted in Alexandria in 486 when a group of students attacked a Christian adolescent who had publicly insulted the students' teachers. Pagan students, Christians affiliated with a local monastery, and the Alexandrian ecclesiastical leaders all cast the incident in a different light, and each group tried with that interpretation to influence subsequent events. Watts, drawing on Greek, Latin, Coptic, and Syriac sources, shows how historical traditions and notions of a shared past shaped the interactions and behavior of these high-profile communities. Connecting oral and written texts to the personal relationships that gave them meaning and to the actions that gave them form, Riot in Alexandria draws new attention to the understudied social and cultural history of the later fifth-century Roman world and at the same time opens a new window on late antique intellectual life.
About the Author
Edward J. Watts, Associate Professor in the Department of History at Indiana University, is the author of City and School in Late Antique Athens and Alexandria, winner of the Outstanding Publication Award from the Classical Association of the Midwest and South.
Praise For Riot in Alexandria: Tradition and Group Dynamics in Late Antique Pagan and Christian Communities (Transformation of the Classical Heritage #46)…
"A noteworthy contribution to the study of Late Antiquity."
— Bryn Mawr Classical Review (BMCR)
"Watts makes the people and events vivid and relevant to the reader."
— Book News
"A commendable account of campus life, student Christian activism, and episcopal oversight in Alexandria."
— Journal Of Theological Studies
"There is much here to admire."
— Thomas Sizgorich
"Watts deftly weds a minutely detailed examination of a specific event to wider macro-history."
— Justin Pigott
"Edward Watts has written a wide-ranging, thoughtful, and stimulating exploration of what can be learned from a single episode."
— T.D.BARNES
"Well-researched [and] carefully argued. . . . Watts has an excellent sense of what needs to be explained for non-specialists."
— Victor Castellani
or
Not Currently Available for Direct Purchase