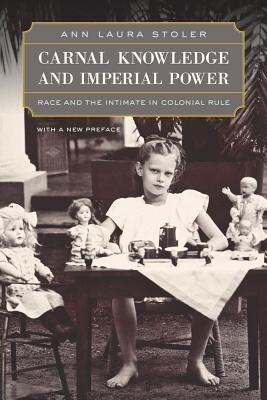 Carnal Knowledge and Imperial Power (Paperback)
Race and the Intimate in Colonial Rule, With a New Preface
University of California Press, 9780520262461, 368pp.
Publication Date: February 10, 2010
Other Editions of This Title:
Paperback (9/1/2002)
* Individual store prices may vary.
Description
This landmark book tracks matters of intimacy to investigate matters of state in late nineteenth and early twentieth century Indonesia, particularly the critical role played by sexual arrangements and affective attachments in creating colonial categories and distinguishing the ruler from the ruled. Arguing that social classification is not a benign cultural act but a potent political one, Ann Laura Stoler's essays focus on parents and parenting, nursing mothers, servants, orphanages, and abandoned children to reveal why they were understood as so essential to imperial governance and why they have been so consistently absent from its historiography. In a new preface, Stoler takes up a broad range of problematics raised in the first edition, including the analytics of comparison, the treatment of the intimate, and more.
About the Author
Ann Laura Stoler is Willy Brandt Distinguished University Professor of Anthropology and Historical Studies at The New School of Social Research. She is the author of Race and the Education of Desire and coeditor of Tensions of Empire: Colonial Cultures in a Bourgeois World (UC Press).