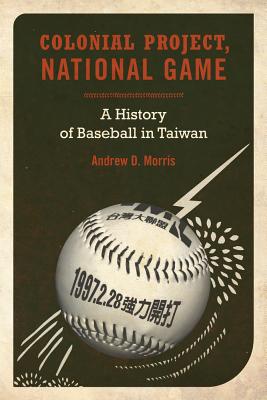 Colonial Project, National Game
A History of Baseball in Taiwan (Asia Pacific Modern #6)
Hardcover

* Individual store prices may vary.
Description
In this engrossing cultural history of baseball in Taiwan, Andrew D. Morris traces the game's social, ethnic, political, and cultural significance since its introduction on the island more than one hundred years ago. Introduced by the Japanese colonial government at the turn of the century, baseball was expected to "civilize" and modernize Taiwan's Han Chinese and Austronesian Aborigine populations. After World War II, the game was tolerated as a remnant of Japanese culture and then strategically employed by the ruling Chinese Nationalist Party (KMT) Even as it was also enthroned by Taiwanese politicians, cultural producers, and citizens as their national game. In considering baseball's cultural and historical implications, Morris deftly addresses a number of societal themes crucial to understanding modern Taiwan, the question of Chinese "reunification," and East Asia as a whole.
Praise For Colonial Project, National Game: A History of Baseball in Taiwan (Asia Pacific Modern #6)…
"An excellent read and a must study for anyone wishing to understand baseball in a global setting. . . . Highly recommended."
— Choice

"Morris offers an innovative reading of history."
— China Review International

"Captivating prose. . . . A much-needed view from the margins."
— Pacific Affairs, Ubc

"Beautifully written."
— American Historical Review

"Morris's nuanced account of the history of baseball in Taiwan is an enjoyable read. . . . A major contribution."
— Sandra Collins

"Offers indispensable elements of knowledge and analyses to those intending to include baseball in their future studies of Taiwan."
— China Perspectives

"Engaging and well-written . . . a major contribution."
— Jennifer Liu
University of California Press, 9780520262799, 290pp.
Publication Date: November 24, 2010
About the Author
Andrew D. Morris is Professor of History and Chair of the History Department at California Polytechnic State University, San Luis Obispo. He is the author of Marrow of the Nation: A History of Sport and Physical Culture in Republican China (UC Press) and coeditor of The Minor Arts of Daily Life: Popular Culture in Taiwan.