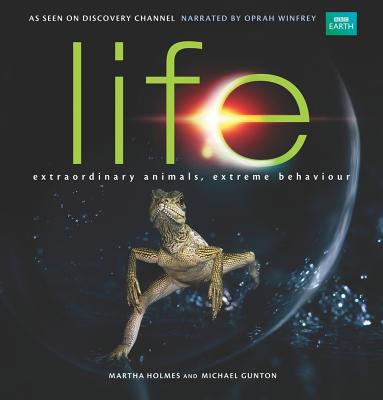 Life (Hardcover)
Extraordinary Animals, Extreme Behaviour
University of California Press, 9780520265370, 312pp.
Publication Date: March 1, 2010
* Individual store prices may vary.
Description
Life, the spectacular companion volume to the new Discovery Channel/BBC series, tells a majestic and compelling story of survival and of the amazing behaviors animals and plants adopt to stay alive and pass their genes to a new generation. Beautifully written and illustrated with more than 300 high-definition color photographs, Life focuses on the most exciting examples of the millions of species to demonstrate the harrowing and very different challenges that all living things must overcome to prevail and to procreate. In 60 concise and captivating vignettes, intriguingly grouped in categories like Extraordinary Sea Creatures, Fabulous Fish, Irrepressible Plants, Hot-blooded Hunters, and Intellectual Primates, the authors provide the most up-to-date science. Each chapter parallels an episode of the television series, making the book a must-have addition to any interested viewer's library. From the familiar to the rare—polar bears, Japanese snow macaques, monarch butterflies, and fish-catching bats, a mega-roost of 10 million fruit bats in Zambia, capuchin monkeys that use stone tools, marine life beneath and upon the ice of Antarctica, and tiny goby fish that climb Hawaiian waterfalls—this sumptuous volume brims with information and unforgettable images of the spectacular, the dangerous, and the bizarre.
About the Author
Martha Holmes, producer for the BBC television production of Life, completed her doctorate in marine biology at the University of York. Michael Gunton, executive editor of Life, is a zoologist who received his training at Cambridge University.
Praise For Life: Extraordinary Animals, Extreme Behaviour…
"Stunning!"
— Alaska Airlines Mag / Horizontal Air Mag
"Even the most casual reader will be awed by the beauty, complexity, and ingenuity of nature as celebrated here." STARRED REVIEW
— Library Journal
"If you are looking for a wonderful gift for the animal lover on your list, this book is it."
— San Francisco Book Review
"In 60 concise and captivating vignettes . . . the authors provide the most up-to-date science."
— Living The Scientific Life (Scientist, Interrupted)
"A highly informative and compelling standalone volume in its own right . . . an excellent addition to anyone's library."
— John P. Roche
"A volume over which a reader can linger with pleasure."
— Richmond Times-Dispatch
"Enjoyable and educational."
— Wildlife Activist
or
Not Currently Available for Direct Purchase