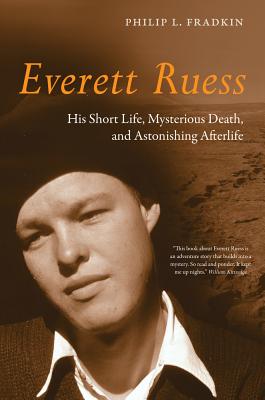 Everett Ruess: His Short Life, Mysterious Death, and Astonishing Afterlife (Hardcover)
His Short Life, Mysterious Death, and Astonishing Afterlife
University of California Press, 9780520265424, 279pp.
Publication Date: August 29, 2011
Description
Everett Ruess was twenty years old when he vanished into the canyonlands of southern Utah, spawning the myth of a romantic desert wanderer that survives to this day. It was 1934, and Ruess was in the fifth year of a quest to record wilderness beauty in works of art whose value was recognized by such contemporary artists as Dorothea Lange, Ansel Adams, and Edward Weston. From his home in Los Angeles, Ruess walked, hitchhiked, and rode burros up the California coast, along the crest of the Sierra Nevada, and into the deserts of the Southwest. In the first probing biography of Everett Ruess, acclaimed environmental historian Philip L. Fradkin goes beyond the myth to reveal the realities of Ruess's short life and mysterious death and finds in the artist's astonishing afterlife a lonely hero who persevered.
About the Author
Philip L. Fradkin is the author of twelve highly praised books, including Wallace Stegner and the American West and The Great Earthquake and Firestorms of 1906: How San Francisco Nearly Destroyed Itself, and (with Alex L. Fradkin) The Left Coast: California on the Edge, all from UC Press.
Advertisement