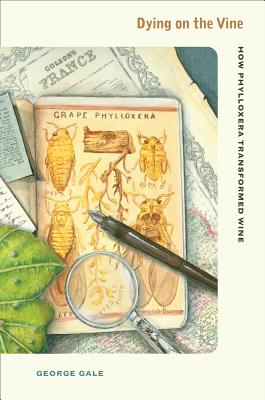 Dying on the Vine (Hardcover)
How Phylloxera Transformed Wine
University of California Press, 9780520265486, 336pp.
Publication Date: July 5, 2011
* Individual store prices may vary.
Description
Dying on the Vine chronicles 150 years of scientific warfare against the grapevine's worst enemy: phylloxera. In a book that is highly relevant for the wine industry today, George Gale describes the biological and economic disaster that unfolded when a tiny, root-sucking insect invaded the south of France in the 1860s, spread throughout Europe, and journeyed across oceans to Africa, South America, Australia, and California—laying waste to vineyards wherever it landed. He tells how scientists, viticulturalists, researchers, and others came together to save the world's vineyards and, with years of observation and research, developed a strategy of resistance. Among other topics, the book discusses phylloxera as an important case study of how one invasive species can colonize new habitats and examines California's past and present problems with it.
About the Author
George Gale is Professor of Philosophy at the University of Missouri-Kansas City and the author of Theory of Science. He has written about phylloxera for The World of Fine Wine magazine and other publications.
Praise For Dying on the Vine: How Phylloxera Transformed Wine…

"Explores the crisis with fresh details and stunning insights. Nominated for a 2012 IACP Award, Dying on the Vine is an excellent and immendsely readable history of wine and its continuing transformation in the wake of an environmental disaster."
— Zester Daily
"Fascinating. . . . [Gale] brings fresh insights to the tale."
— The Economist
"[A] fine reference for the botanically inclined and researcher alike. So why dwell on a plague that happened almost 150 years ago? Because it is still with us, waiting to mutate, as it did in California in the 1980s, eventually destroying thousands of acres of vines."
— Wine Spectator
"A fantastic book and was a great read from cover to cover. . . . If you're at all interested in the history of wine, ecology, entomology, or just overall good writing, I highly recommend picking up a copy of this book!"
— The Academic Wino
"Describes for the first time in great detail the worldwide grape blight of the late 19th century."
— College & Research Libraries News
"It should be read not just by curious wine drinkers, but also by those with a serious interest in the history of plant disease."
— James Simpson
"A fascinating read for anyone interested in grapevines and/or the philosophy of science."
— G. S. Howell
or
Not Currently Available for Direct Purchase