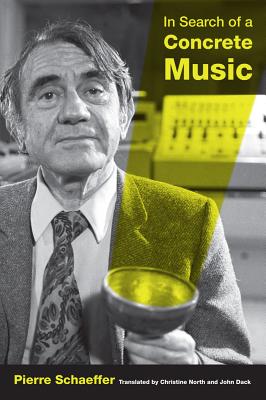 In Search of a Concrete Music (California Studies in 20th-Century Music #15) (Paperback)
University of California Press, 9780520265745, 244pp.
Publication Date: November 26, 2012
Other Editions of This Title:
Hardcover (11/26/2012)
* Individual store prices may vary.
Description
Pierre Schaeffer's In Search of a Concrete Music (À la recherche d'une musique concrète) has long been considered a classic text in electroacoustic music and sound recording. Now Schaeffer's pioneering work—at once a journal of his experiments in sound composition and a treatise on the raison d'être of "concrete music"—is available for the first time in English translation. Schaeffer's theories have had a profound influence on composers working with technology. However, they extend beyond the confines of the studio and are applicable to many areas of contemporary musical thought, such as defining an 'instrument' and classifying sounds. Schaeffer has also become increasingly relevant to DJs and hip-hop producers as well as sound-based media artists. This unique book is essential for anyone interested in contemporary musicology or media history.
About the Author
Composer Pierre Schaeffer (1910–1995) was the inventor of musique concrète music created by combining and manipulating recorded sounds (rather than being played on conventional musical instruments).

Translators:
John Dack is Senior Research Fellow and Director of the Sonic Arts Department at Middlesex University. Christine North is retired as Lecturer in French at Middlesex University.
Praise For In Search of a Concrete Music (California Studies in 20th-Century Music #15)…
"Collects Schaeffer's journals and other writings about his musique concrete, which he created by manipulating recorded sounds."
— Harper's
"One of the postwar perìod's most significant (and readable) grapplings with new artistic paradigms."
— Rob Young
"Completely changed how I hear the world and, after more than 30 years, I am still living with the consequences."
— John Dack
"One striking impression that emerges from reading this book is that [Schaeffer's] work merits a perspective with greater nuance."
— Times Higher Education
"Captures these uneven rhythms of intuition and perplexity, and his imagination and wit."
— Los Angeles Review Of Books
"Recommended."
— J. Behrens, Wolf Museum of Music and Art