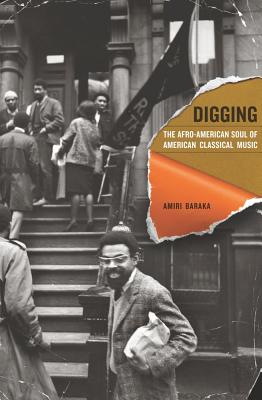 Digging
The Afro-American Soul of American Classical Music (Music of the African Diaspora #13)
Paperback

* Individual store prices may vary.
Description
For almost half a century, Amiri Baraka has ranked among the most important commentators on African American music and culture. In this brilliant assemblage of his writings on music, the first such collection in nearly twenty years, Baraka blends autobiography, history, musical analysis, and political commentary to recall the sounds, people, times, and places he's encountered. As in his earlier classics, Blues People and Black Music, Baraka offers essays on the famous—Max Roach, Charlie Parker, Miles Davis, John Coltrane—and on those whose names are known mainly by jazz aficionados—Alan Shorter, Jon Jang, and Malachi Thompson. Baraka's literary style, with its deep roots in poetry, makes palpable his love and respect for his jazz musician friends. His energy and enthusiasm show us again how much Coltrane, Albert Ayler, and the others he lovingly considers mattered. He brings home to us how music itself matters, and how musicians carry and extend that knowledge from generation to generation, providing us, their listeners, with a sense of meaning and belonging.
Praise For Digging: The Afro-American Soul of American Classical Music (Music of the African Diaspora #13)…
"What sets Digging apart from similar treatises are the rhythms and textures of Baraka's prose, which render audible the thrill of listening to and engaging with black musical sounds. Over the course of Digging, we hear Baraka extolling the virtues of Stevie Wonder's "I Just Called to Say I Love You" (one of the most universally derided songs in the recent history of popular music), providing an intimate portrait of Nina Simone in the 1980s, disparaging mainstream jazz criticism, writing lyrically about John Coltrane and Miles Davis, and exploring Bill Cosby's jazz hipster roots. These seemingly disparate subjects are held together by Baraka's lyrical imagination as well as his critical incisiveness. . . . Digging, like Blues People and Black Music before it, is a major contribution to both African American literature and American music criticism."
— African American Review

"Virtually everything here is as lively and compelling as his strongest work of the past, and a trio of takes on Albert Ayler are together, I would argue, the most incisive, definitive, magical, true portrait of a jazzman and his music—of any era—ever writ. (Believe it.)"
— Oregonian

"Digging will prove an important book. But while the usual tastemakers get around to acknowledging as much, . . . enjoy the liveliness of Baraka's writing and the life demonstrated in its mixings of Black and White, high and low, American and global cultures."
— Cadence Magazine

"Through essays, observations and a focus on great musicians, Amiri Baraka offers up history, musical analyses and a political commentary as they relate to African-American music and culture."
— Goldmine

"Baraka's 1963 book Blues People (written as Leroi Jones) is a landmark work of criticism on American music, and Digging offers a generous selection of recent writing undertaken in the same spirit of intellectual engagement, political advocacy, and ardent fandom."
— Foreword Reviews

"Meditations on black music, primarily jazz, that American classical music, that will satisfy anyone who desires intelligent thought on the genre."
— Beat Scene

"There is much to recommend in this excellent volume of essays."
— Magill's Literary Annual
University of California Press, 9780520265820, 426pp.
Publication Date: May 26, 2009
About the Author
Amiri Baraka (formerly LeRoi Jones) is a writer and critic, the poet laureate of New Jersey, and Professor Emeritus of the State University of New York, Stony Brook. His many books include Blues People, Black Music, and The Music.