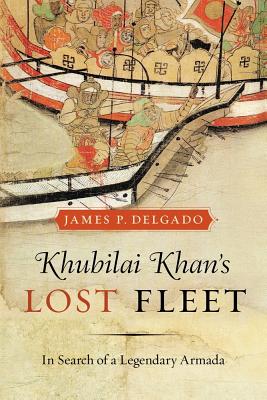 Khubilai Khan's Lost Fleet (Paperback)
In Search of a Legendary Armada
University of California Press, 9780520265851, 240pp.
Publication Date: July 23, 2010
Other Editions of This Title:
Hardcover (4/1/2009)
* Individual store prices may vary.
Description
In 1279, near what is now Hong Kong, Mongol ruler Khubilai Khan fulfilled the dream of his grandfather, Genghis Khan, by conquering China. The Grand Khan now ruled the largest empire the world has ever seen—one that stretched from the China Sea to the plains of Hungary. He also inherited the world's largest navy—more than seven hundred ships. Yet within fifteen years, Khubilai Khan's massive fleet was gone. What actually happened to the Mongol navy, considered for seven centuries to be little more than legend, has finally been revealed. Renowned archaeologist and historian James P. Delgado has gone diving with a Japanese team currently studying the remains of the Khan's lost fleet. Drawing from diverse sources—sunken ships, hand-painted scrolls, drowned bodies, and historical and literary records— in this gripping account that moves deftly between the present and the past, Delgado pieces together the fascinating tale of Khubilai Khan's maritime forays and unravels one of history's greatest mysteries: What sank the great Mongol fleet?

Copub: Douglas & McIntyre
About the Author
James P. Delgado is the President of the Institute of Nautical Archaeology. His many previous books include the British Museum Encyclopedia of Underwater and Maritime Archaeology, and, most recently, Gold Rush Port: The Maritime Archaeology of San Francisco's Waterfront (UC Press). Delgado has hosted the National Geographic television series "The Sea Hunters."
Praise For Khubilai Khan's Lost Fleet: In Search of a Legendary Armada…
"Engaging and highly readable . . .Delgado writes with an attractively direct style. . . . This trim volume, covering only a small part of a vast subject, is . . . a valuable addition to the shelves."
— The Guardian
"Splendor galore . . . This consistently interesting, well-organized book addresses more than its title suggests. [It] will appeal to anyone interested in modern underwater archaeology or Asian, maritime, and military history-who, after all, isn't amazed that Khubilai's second fleet was the largest ever assembled until Operation Overlord some 650 years later?"
— Foreword Magazine
"[Delgado] writes so well, on such a human level. He makes history come alive."
— Huffington Post
"This is a well-written and valuable book exploring an area of scholarship that is still in its infancy in Asia."
— China Review International
or
Not Currently Available for Direct Purchase