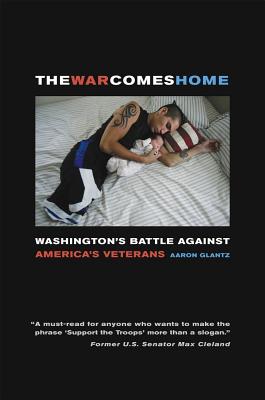 The War Comes Home
Washington's Battle against America's Veterans
Paperback

* Individual store prices may vary.
Other Editions of This Title:
Hardcover (1/1/2009)
Description
The War Comes Home is the first book to systematically document the U.S. government's neglect of soldiers returning from Iraq and Afghanistan. Aaron Glantz, who reported extensively from Iraq during the first three years of this war and has been reporting on the plight of veterans ever since, levels a devastating indictment against the Bush administration for its bald neglect of soldiers and its disingenuous reneging on their benefits. Glantz interviewed more than one hundred recent war veterans, and here he intersperses their haunting first-person accounts with investigations into specific concerns, such as the scandal at the Walter Reed Army Medical Center. This timely book does more than provide us with a personal connection to those whose service has cost them so dearly. It compels us to confront how America treats its veterans and to consider what kind of nation deifies its soldiers and then casts them off as damaged goods.
Praise For The War Comes Home: Washington's Battle against America's Veterans…
"Manages superbly to relate the stories of wounded individuals, describe the political and institutional issues that have led to the neglect of returnees' problems, and suggest resources for veterans and their families."
— Library Journal
"A breathtaking rebuke to government hypocrisy and an overdue contribution to gaining critical public awareness of this official neglect."
— Publishers Weekly
"Aaron Glantz puts himself at the forefront of those who are bringing this new generation of veterans into public view."
— San Francisco Chronicle
"Sharply drawn examples and evidence-based judgments render all three stories highly readable."
— Choice
"Does what no professional journalist has done heretofore. . . . Powerfully compelling yet simply rendered."
— Huffingtonpost.com
University of California Press, 9780520266049, 288pp.
Publication Date: January 15, 2009
About the Author
Aaron Glantz, an independent journalist whose work has appeared in The Nation and The Progressive and on Democracy Now!, is the author of How America Lost Iraq.