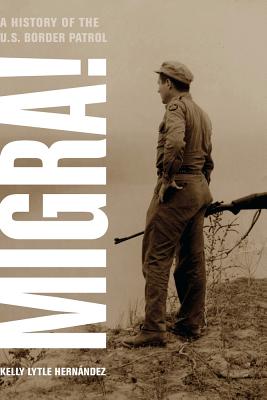 Migra!
A History of the U.S. Border Patrol (American Crossroads #29)
Paperback

* Individual store prices may vary.
Other Editions of This Title:
Hardcover (5/3/2010)
Description
Political awareness of the tensions in U.S.-Mexico relations is rising in the twenty-first century; the American history of its treatment of illegal immigrants represents a massive failure of the promises of the American dream. This is the untold history of the United States Border Patrol from its beginnings in 1924 as a small peripheral outfit to its emergence as a large professional police force that continuously draws intense scrutiny and denunciations from political activism groups. To tell this story, MacArthur "Genius" Fellow Kelly Lytle Hernández dug through a gold mine of lost and unseen records and bits of biography stored in garages, closets, an abandoned factory, and in U.S. and Mexican archives. Focusing on the daily challenges of policing the Mexican border and bringing to light unexpected partners and forgotten dynamics, Migra! reveals how the U.S. Border Patrol translated the mandate for comprehensive migration control into a project of policing immigrants and undocumented "aliens" in the U.S.-Mexico borderlands. 
Praise For Migra!: A History of the U.S. Border Patrol (American Crossroads #29)…
"A useful resource for any scholar seeking to understand the complex dynamics of race, migration, and law in the twentieth century."
— Law & History Review

"Migra! stands as a major contribution, successfully revising our understanding of border policing."
— Journal of American History

"An interesting and valuable book."
— Historian

"A thorough and substantive study of the United States Border Patrol, or la migra in colloquial Spanish."
— Hispanic American Historical Review

"An insightful history on the Border Patrol."
— NACLA Report on the Americas

"The book contributes to our understanding of the ways in which American immigration law enforcement was very much a product of U.S. foreign relations with Mexico."
— Western Historical Quarterly

"Overall this book lays out an ambitious agenda and provides well-narrated documentary support for its arguments. . . . A valuable work."
— Journal of Social & Cultural Geography

"The most thorough history of the Border Patrol to date."
— Southwestern Historical Quarterly

"Migra! is undoubtedly a valuable book, especially as a storehouse of information and as an introduction to a new, international perspective on American immigration. Sections of it will undoubtedly become the foundations of research that will continue to broader our understanding many years into the future."
— American Book Review

"If you had to choose one book as a starting place for an intelligent discussion about immigration issues, you would do well to begin with Migra! . . . The story that emerges in Migra! is surprisingly complex and nuanced. It was enlightening to learn that we have been doing the same dance around these issues for almost 100 years."
— Tucson Weekly
University of California Press, 9780520266414, 336pp.
Publication Date: May 3, 2010
About the Author
Kelly Lytle Hernández is Assistant Professor in the Department of History, Associate Director of the Chicano Studies Research Center at the University of California, Los Angeles, and the recipient of a MacArthur "Genius" Fellowship.