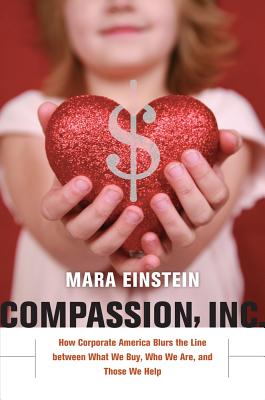 Compassion, Inc.
How Corporate America Blurs the Line between What We Buy, Who We Are, and Those We Help
Hardcover

* Individual store prices may vary.
Description
Pink ribbons, red dresses, and greenwashing—American corporations are scrambling to tug at consumer heartstrings through cause-related marketing, corporate social responsibility, and ethical branding, tactics that can increase sales by as much as 74%. Harmless? Marketing insider Mara Einstein demonstrates in this penetrating analysis why the answer is a resounding "No!" In Compassion, Inc. she outlines how cause-related marketing desensitizes the public by putting a pleasant face on complex problems. She takes us through the unseen ways in which large sums of consumer dollars go into corporate coffers rather than helping the less fortunate. She also discusses companies that truly do make the world a better place, and those that just pretend to.


Praise For Compassion, Inc.: How Corporate America Blurs the Line between What We Buy, Who We Are, and Those We Help…
""Einstein has the unenviable task of reminding us that shopping is not philanthropy. The consumer marketplace is increasingly becoming the mechanism for funding organizations that do charitable work, thus tying the fates of charities to the whims of the market, Einstein warns. It is also enabling governments to further abdicate problem-solving, with the result that the causes we care so much about are not genuinely helped."
— Laura Orlando

"Einstein's book is a powerful call to be more attentive to whether we're letting ourselves try to be philanthropic on the cheap by "giving" to others when we're really just getting something for ourselves."
— Jacqueline Pfeffer Merrill

"A highly worthwhile read with prescriptive examples for authentic sustainability and social justice initiatives at companies—not all about the brand, the celebrity or corporate self-interest."
— Rebecca Aguilar

"Marketing campaigns associated with philanthropy . . . may sound magnanimous, but when Einstein shines a lens on the practice, she finds considerable cracks in the veneer."
— Laura Orlando

"On our must-read list."
— Humane Connection

"Provocative."
— Rance Crain

"Eminently readable. . . . Few have questioned whether [corporate charitable giving] strategies are good for anyone but corporations. Mara Einstein is one of the brave few."
— Billie Sandberg
University of California Press, 9780520266520, 240pp.
Publication Date: April 26, 2012
About the Author
Mara Einstein is Associate Professor of Media Studies at Queens College. She is the author of Brands of Faith: Marketing Religion in a Commercial Age. She has worked as a senior marketing executive in both broadcast and cable television as well as at major advertising agencies.