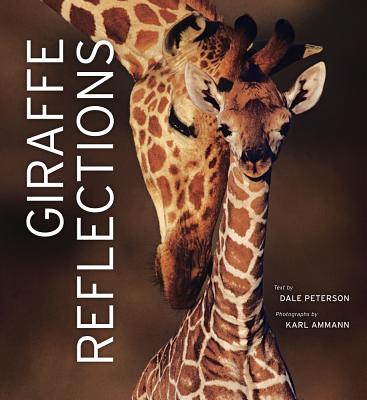 Giraffe Reflections
Hardcover

* Individual store prices may vary.
Description
The most comprehensive book on giraffes to appear in the last fifty years, this volume presents a magnificent portrait of a group of animals who, in spite of their legendary elegance and astonishing gentleness, may not entirely survive this century.

Dale Peterson's text provides a natural and cultural history of the world's tallest and second-biggest land animals, describing in detail their biology and behavior. He offers a new perspective on the giraffes' place in our world, and argues for the stronger protection of these imposing yet endangered creatures and their elusive forest relatives, the okapis.

Some 120 stunning photographs by award-winning wildlife photographer Karl Ammann capture the grace and elegance of Giraffa camelopardalis. Both beautiful and informative, the images document giraffes' complex interactions with each other and their environment.


Praise For Giraffe Reflections…
"In this stunning collection of Ammann's photographs, Peterson offers an engaging natural history of giraffes, as well as a look at their behavior and beauty. . . . Ammann's exquisite photos portray the giraffes' majesty and just how impoverished our world would be if they 'march into a night of nonexistence.'"
— Publishers Weekly

"Giraffe Reflections is a stunning compendium of animal photography and entertaining history. . . . The real point of the book is Ammann's gorgeous photos of giraffes, both atmospheric shots and more prosaic ones of the animals going about their business. With Peterson's entertaining text as a filigree, the combination is an emotionally satisfying presentation."
— Bob Holmes

"An elegant and comprehensive volume. In a series of lushly visual essays, the authors delve into the evolution of giraffes' strange anatomy and the intricacies of their behavior, as well as their possible futures alongside humans. Marvelously—and despite the book's encyclopedic presentation—giraffes become even more mysterious by the tome's end than they were at its beginning."
— Lee Billings

"A magnificent book. . . . Throughout, the story of the giraffe is told as much with images as with text. Each chapter concludes with a series of Ammann's breathtaking photographs, which have been selected and sequenced to illustrate specific themes. This is engrossing natural history about one of nature's most intriguing animals. Highly recommended for all who enjoy learning about African wildlife." STARRED REVIEW
— Cynthia Lee Knight

"'Giraffe Reflections' is a rare breed in that it excels both as a photography book and a work of natural history. Karl Ammann's photographs are riveting, but so is Peterson's text. Each enhances the other."
— Jan Gardner


"Informative and strangely mesmerizing."
— Giraffe Reflections

"This is, without a doubt, one of the most beautiful books of the year."
— Alan Petrucelli

"Striking full-page photographs are highlights in this comprehensive text on the biology and behavior of giraffes."
— Science News
University of California Press, 9780520266858, 232pp.
Publication Date: September 9, 2013
About the Author
Dale Peterson is a Lecturer in the English Department of Tufts University and the author of numerous books, including Jane Goodall, Demonic Males, Visions of Caliban, and Chimpanzee Travels. Karl Ammann has photographed wildlife throughout Africa, India, and Southeast Asia. His work has appeared in the New York Times Magazine, Outdoor Photography, Natural History, African Geographic, and elsewhere. Peterson and Ammann have also collaborated to produce Elephant Reflections and Eating Apes, both published by UC Press.