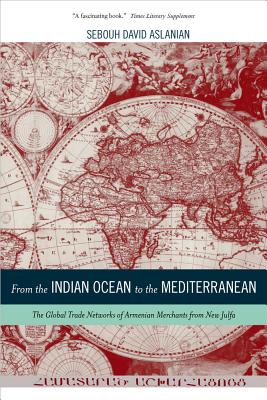 From the Indian Ocean to the Mediterranean (Hardcover)
The Global Trade Networks of Armenian Merchants from New Julfa (California World History Library #17)
University of California Press, 9780520266872, 392pp.
Publication Date: May 4, 2011
Other Editions of This Title:
Paperback (3/14/2014)
* Individual store prices may vary.
Description
Drawing on a rich trove of documents, including correspondence not seen for 300 years, this study explores the emergence and growth of a remarkable global trade network operated by Armenian silk merchants from a small outpost in the Persian Empire. Based in New Julfa, Isfahan, in what is now Iran, these merchants operated a network of commercial settlements that stretched from London and Amsterdam to Manila and Acapulco. The New Julfan Armenians were the only Eurasian community that was able to operate simultaneously and successfully in all the major empires of the early modern world—both land-based Asian empires and the emerging sea-borne empires—astonishingly without the benefits of an imperial network and state that accompanied and facilitated European mercantile expansion during the same period. This book brings to light for the first time the trans-imperial cosmopolitan world of the New Julfans. Among other topics, it explores the effects of long distance trade on the organization of community life, the ethos of trust and cooperation that existed among merchants, and the importance of information networks and communication in the operation of early modern mercantile communities.
About the Author
Sebouh David Aslanian is Assistant Professor of History and the Richard Hovannisian Term Chair in Modern Armenian History at UCLA
Praise For From the Indian Ocean to the Mediterranean: The Global Trade Networks of Armenian Merchants from New Julfa (California World History Library #17)…
"Fascinating."
— Times Literary Supplement (TLS)
"Exceeds, by far, all previous scholarship on the Armenian merchants of New Julfa."
— Ararat
"A fascinating book."
— Times Literary Supplement (TLS)
"Aslanian has unearthed a veritable treasure trove, and this book, which is written in a lucid style, is of great interest."
— The Historian
"An extensively researched study . . . that is both scholarly and interesting to read. . . . Well written and well-documented."
— Daphne Abeel
"This is the kind of book that entices readers to spend time not only with the text but also with the bibliography and endnotes, retracing research steps and finding new paths to benefit their own work."
— Patricia Risso
"Ground-breaking . . . Superb."
— Sossie Kasbarian