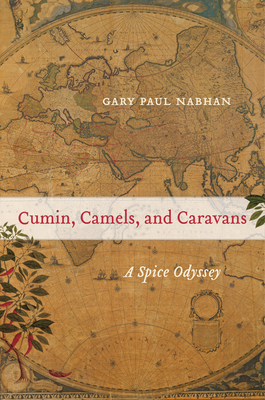 Cumin, Camels, and Caravans (Hardcover)
A Spice Odyssey (California Studies in Food and Culture #45)
University of California Press, 9780520267206, 332pp.
Publication Date: April 7, 2014
* Individual store prices may vary.
Description
Gary Paul Nabhan takes the reader on a vivid and far-ranging journey across time and space in this fascinating look at the relationship between the spice trade and culinary imperialism. Drawing on his own family's history as spice traders, as well as travel narratives, historical accounts, and his expertise as an ethnobotanist, Nabhan describes the critical roles that Semitic peoples and desert floras had in setting the stage for globalized spice trade.

Traveling along four prominent trade routes—the Silk Road, the Frankincense Trail, the Spice Route, and the Camino Real (for chiles and chocolate)—Nabhan follows the caravans of itinerant spice merchants from the frankincense-gathering grounds and ancient harbors of the Arabian Peninsula to the port of Zayton on the China Sea to Santa Fe in the southwest United States. His stories, recipes, and linguistic analyses of cultural diffusion routes reveal the extent to which aromatics such as cumin, cinnamon, saffron, and peppers became adopted worldwide as signature ingredients of diverse cuisines. Cumin, Camels, and Caravans demonstrates that two particular desert cultures often depicted in constant conflict—Arabs and Jews—have spent much of their history collaborating in the spice trade and suggests how a more virtuous multicultural globalized society may be achieved in the future.


 
About the Author
Gary Paul Nabhan is the W.K. Kellogg Endowed Chair for Sustainable Food Systems at the University of Arizona. He is the author of several award-winning books, including Where Our Food Comes From, Coming Home to Eat, Gathering the Desert, and Arab/American.
Praise For Cumin, Camels, and Caravans: A Spice Odyssey (California Studies in Food and Culture #45)…
"Richly embroidered with detail, Cumin, Camels, and Caravans by scholar Gary Paul Nabhan is part history, part geography, part cookbook, and part travel memoir. . . . Interspersed with recipes from various stops on historical spice routes, Nabhan discusses the botany, linguistic history, and trade history of each substance, but far from being dry accounts, they bring the wonder of many ingredients we now view as commonplace into focus; Nabhan's painstaking research has not eclipsed an evident natural knack for storytelling."
"Heady historical and cultural study of ancient trade routes. . . . Nabhan adds pungent pinches of botany and gastronomy."

"Gary Paul Nabhan weaves a fascinating story."


"Nabhan is the ideal travelling companion. With an ancestry that stretches back to the spice-trading Nabheni tribe of Oman, Nabhan is by profession an ethnobotanist and food writer with a clutch of culinary history books under his belt. And he wears his erudition lightly. Although the book is referenced like an academic tome, it reads like a detective story – albeit one with generous pinches of exotic smells and alluring flavours thrown in.  Spiced locusts, anyone?"