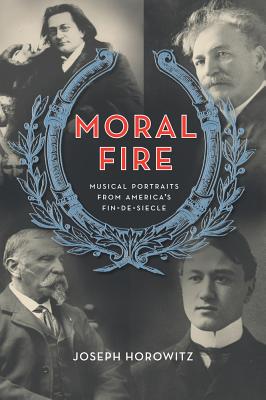 Moral Fire
Musical Portraits from America's Fin de Siècle
Hardcover

* Individual store prices may vary.
Description
Joseph Horowitz writes in Moral Fire: "If the Met's screaming Wagnerites standing on chairs (in the 1890s) are unthinkable today, it is partly because we mistrust high feeling. Our children avidly specialize in vicarious forms of electronic interpersonal diversion. Our laptops and televisions ensnare us in a surrogate world that shuns all but facile passions; only Jon Stewart and Bill Maher share moments of moral outrage disguised as comedy."

Arguing that the past can prove instructive and inspirational, Horowitz revisits four astonishing personalities—Henry Higginson, Laura Langford, Henry Krehbiel and Charles Ives—whose missionary work in the realm of culture signaled a belief in the fundamental decency of civilized human nature, in the universality of moral values, and in progress toward a kingdom of peace and love.


Praise For Moral Fire: Musical Portraits from America's Fin de Siècle…
"A thoroughly engrossing read, a journey to an impassioned time rich in ideas, idealism, and hope for the future."
— Chester Lane
"Horowitz's prose in "Moral Fire" is graceful and lucid, and his splendid musical analysis of such works as the "Concord" sonata and Ives's evocation of Henry David Thoreau's "silence of the night" are sure to send readers scurrying back to scores and recordings to revisit the works he discusses."
— Marion Lignana Rosenberg
"Rich in historical detail, Moral Fire is highly rewarding to musicians and historians, bringing a new understanding to the mis-understood Gilded Age."
— Parsons
"Essential reading for anyone who wants to grasp the distinctive early history of the BSO or the cultural roots of modern-day Boston."
— Jeremy Eichler
"Today they are all but forgotten, yet Henry Higginson, Henry Krehbiel and Laura Langford were three American figures of astounding accomplishment. . . . Horowtiz's book rightly reminds us of the achievements of these major fin-de-siecle protagonists."
— John Robert Brown
Horowitz makes [an] excellent [case] for . . . a reexamination of turn-of-the-century high culture in the US. . . . Recommended."
— D. A. Wells, California State University, Sacramento
"The most recent of Joseph Horowitz's commanding studies of American musical life concentrates on four figures from the turn of the twentieth century whose characters exemplify in distinctive ways the moral fire of his title."
— David Matthews
"Fascinating history."
— Peter Jacobi
"Thoughtful and nuanced. . . . We owe a debt of gratitude to Horowitz."
— Alexander H. Shapiro
"Horowitz offers a revisionist view of the era—not as a philistine, materialistic 'Gilded Age' but as a time when right-minded individuals felt that they could and should improve the lot of their fellow humans."
— Fred Cohn
"Horowitz's study of the Gilded Age makes one hope that, in 2114, historians will look back at the turn of the twenty-first century and find that we have kindled a moral fire of our own."
— Journal of the Society for American Music
University of California Press, 9780520267442, 270pp.
Publication Date: May 22, 2012
About the Author
Joseph Horowitz is the author of Classical Music in America, Artists in Exile, (UC Press), Understanding Toscanini, and Wagner Nights. Previously a New York Times music critic, then Executive Director of the Brooklyn Philharmonic, he is currently Artistic Director of DC's Post-Classical Ensemble.
or
Not Currently Available for Direct Purchase