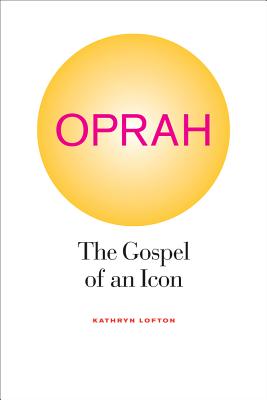 Oprah
The Gospel of an Icon
Paperback

* Individual store prices may vary.
Other Editions of This Title:
Hardcover (3/2/2011)
Description
"Today on Oprah," intoned the TV announcer, and all over America viewers tuned in to learn, empathize, and celebrate. In this book, Kathryn Lofton investigates the Oprah phenomenon and finds in Winfrey's empire—Harpo Productions, O Magazine, and her new television network—an uncanny reflection of religion in modern society. Lofton shows that when Oprah liked, needed, or believed something, she offered her audience nothing less than spiritual revolution, reinforced by practices that fuse consumer behavior, celebrity ambition, and religious idiom. In short, Oprah Winfrey is a media messiah for a secular age. Lofton's unique approach also situates the Oprah enterprise culturally, illuminating how Winfrey reflects and continues historical patterns of American religions.
Praise For Oprah: The Gospel of an Icon…
"A fascinating study of the modern-day deity's 25 years as the world's most beloved BFF, exhaustively researched and elegantly considered. Buy it for the smartest Oprah fan you know."
— Madison

"A fascinating new perspective on a media icon."
— Vanessa Bush

"Budding and active scholars of cultural, popular, and religious studies will read with interest."
— Jewell Anderson

"If you read it [Oprah], you won't think about the connection between religion and consumer culture the same way again."
— Thomas S. Kidd

"A unique analysis of the talk queen's multimedia empire."
— Shirley Bolden

"Makes a powerful case for viewing Oprah as a significant moment in religious culture."
— Milo Yiannopoulos

"Tantalizing."
— Amy Frykholm

"[Lofton's] authorial voice is, by turns, instructing, funny, ironic, snide, brilliantly analytical, undeniably astute . . . and feisty."
— Mary Farrell Bednarowski

"Lofton's careful and engaging work is sure to warrant responses. How wonderful that this book is the one to set the stage."
— Jennifer Scanlon

"Compelling and insightful. . . . [A] thorough and fascinating work that significantly aids our understanding of religion and spirituality in postwar America."
— Lerone Martin

"Vitally important, both as an addition to cultural studies in general, and a challenge to the question of how to study American religion. Not only does she break new ground in thoughtful cultural analysis of a complicated American icon, she helps to solidify the potential for a new category of interdisciplinary religious studies scholarship."
— Kate Netzler

"Oprah: The Gospel of an Icon is an important addition to the study of religion in America because it takes into account the religious impact of popular media. . . . What Lofton is advocating is that popular culture contains within it people and performances that shape religion in America."
— Amy Collier Artman

"Thoroughly researches, engagingly written, deftly weaving together major currents of US religious and cultural history, Oprah: The Gospel of an Icon will hold great interest for students and scholars in religious studies, American studies, and media and cultural studies, but Winfrey's fans may also enjoy this lively exegesis of their heroine."
— Janice Peck
University of California Press, 9780520267527, 304pp.
Publication Date: March 2, 2011
About the Author
Kathryn Lofton is the Sarai Ribicoff Associate Professor of American Studies and Religious Studies at Yale University.