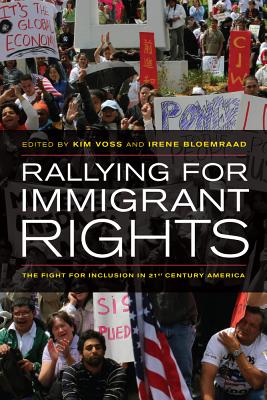 Rallying for Immigrant Rights
The Fight for Inclusion in 21st Century America
Paperback

* Individual store prices may vary.
Other Editions of This Title:
Hardcover (7/6/2011)
Description
From Alaska to Florida, millions of immigrants and their supporters took to the streets across the United States to rally for immigrant rights in the spring of 2006. The scope and size of their protests, rallies, and boycotts made these the most significant events of political activism in the United States since the 1960s. This accessibly written volume offers the first comprehensive analysis of this historic moment. Perfect for students and general readers, its essays, written by a multidisciplinary group of scholars and grassroots organizers, trace the evolution and legacy of the 2006 protest movement in engaging, theoretically informed discussions. The contributors cover topics including unions, churches, the media, immigrant organizations, and immigrant politics. Today, one in eight U.S. residents was born outside the country, but for many, lack of citizenship makes political voice through the ballot box impossible. This book helps us better understand how immigrants are making their voices heard in other ways.


Praise For Rallying for Immigrant Rights: The Fight for Inclusion in 21st Century America…
"This important book makes a significant contribution to the growing fields of immigration, ethnic relations, and policy studies."
— D. A. Chekkie
"[The authors] make a compelling case. . . . Thought-provoking."
— Lina Stepick, University of California, Los Angeles
"The 'fight for inclusion in . . . could not have been waged so effectively without prior grassroots work by . . . unions, the religious community, and immigrant rights organizations."
— Steve Early
University of California Press, 9780520267558, 336pp.
Publication Date: July 6, 2011
About the Author
Kim Voss is Professor in the Department of Sociology at the University of California, Berkeley. She is coauthor, with Rick Fantasia, of Hard Work: Remaking the American Labor Movement (UC Press), coauthor of Inequality by Design, and author of The Making of American Exceptionalism. Irene Bloemraad is Associate Professor of Sociology at the University of California, Berkeley. She is author of Becoming a Citizen: Incorporating Immigrants and Refugees in the United States and Canada (UC Press).