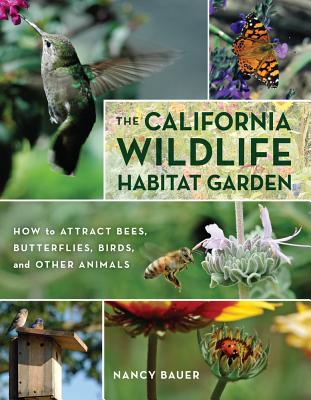 The California Wildlife Habitat Garden
How to Attract Bees, Butterflies, Birds, and Other Animals
Paperback

* Individual store prices may vary.
Description
This attractive, practical guide explains how to transform backyard gardens into living ecosystems that are not only enjoyable retreats for humans, but also thriving sanctuaries for wildlife. Beautifully illustrated with full-color photographs, this book provides easy-to-follow recommendations for providing food, cover, and water for birds, bees, butterflies, and other small animals. Emphasizing individual creativity over conventional design, Bauer asks us to consider the intricate relationships between plants and wildlife and our changing role as steward, rather than manipulator, of these relationships.

In an engaging narrative that endorses simple and inexpensive methods of wildlife habitat gardening, Nancy Bauer discusses practices such as recycling plant waste on site, using permeable pathways, growing regionally appropriate plants, and avoiding chemical fertilizers and insecticides. She suggests ways of attracting pollinators through planting choices and offers ideas for building water sources and shelters for wildlife. A plant resource guide, tips for propagating plants, seasonal plants for hummingbirds, and host plants for butterflies round out The California Wildlife Habitat Garden, making it an indispensable primer for those about to embark on creating their own biologically diverse, environmentally friendly garden.


Praise For The California Wildlife Habitat Garden: How to Attract Bees, Butterflies, Birds, and Other Animals…
"A must-have for novice gardeners, and an invaluable resource for more experience gardeners looking to expand or improve their wildlife garden. It is well written, applicable throughout California, easy to understand, and has stunning photographs."
— Fremontia

"Well-produced, practical, and thorough, this book is a significant contribution to habitat gardening literature . . . [including] useful plant lists and appendices. . . . an outstanding model for other regionally oriented habitat gardening books in terms of level of detail and useful specifics."
— American Horticulture Society

"A practical and readable guide for turning backyard gardens into sanctuaries for birds and bees and beneficial insects. Bauer, who has taught classes for the San Francisco Botanical Garden, the master gardeners and other groups, calls on readers to consider the intricate relationship between plans and wildlife, and the role humans can take as steward rather than manipulator, of those relationships."
— Press Democrat
University of California Press, 9780520267817, 248pp.
Publication Date: August 8, 2012
About the Author
Nancy Bauer is the author of The Habitat Garden Book: Wildlife Landscaping for the San Francisco Bay Region. She is a writer and garden instructor based in Sonoma County. She has taught classes for the San Francisco Botanical Garden, UC Davis Master Gardeners' training programs, the National Wildlife Stewardship Program, and for numerous garden and nature organizations throughout the San Francisco Bay Area.