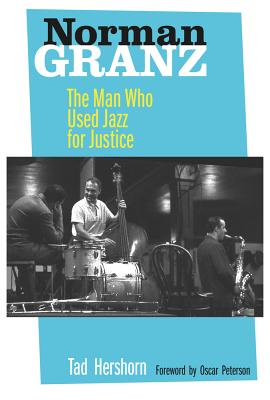 Norman Granz
The Man Who Used Jazz for Justice
Hardcover

* Individual store prices may vary.
Description
"Any book on my life would start with my basic philosophy of fighting racial prejudice. I loved jazz, and jazz was my way of doing that," Norman Granz told Tad Hershorn during the final interviews given for this book. Granz, who died in 2001, was iconoclastic, independent, immensely influential, often thoroughly unpleasant—and one of jazz's true giants. Granz played an essential part in bringing jazz to audiences around the world, defying racial and social prejudice as he did so, and demanding that African-American performers be treated equally everywhere they toured. In this definitive biography, Hershorn recounts Granz's story: creator of the legendary jam session concerts known as Jazz at the Philharmonic; founder of the Verve record label; pioneer of live recordings and worldwide jazz concert tours; manager and recording producer for numerous stars, including Ella Fitzgerald and Oscar Peterson.
Praise For Norman Granz: The Man Who Used Jazz for Justice…
"Most accounts of Granz are given over to his humanitarian triumphs, but this book from the Rutgers archivist Hershorn adds a close examination of the recordings Granz made at his Verve label, many of which have engendered controversy ever since. . . . While the Granz discography may be more padded than jazz historians would like, at least the dross is mitigated by gems like his work with Oscar Peterson (who provides the book's foreword) and his glorious run with Ella Fitzgerald. And even the dross had a few kickin' solos mixed in with the sometimes inchoate jams."
— New York Times Book Review

"In this first-ever biography of an often brusque and unyielding but thoroughly principled jazz missionary, Tad Hershorn has masterfully researched Granz's vivid career, adding new information about the jazz originals he guided and sometimes sparred with."
— Wall Street Journal

"Hershorn's capsules on the artists are invaluable and his meticulous research . . . doesn't slow down the story of this unique figure. This is an exhaustively rich portrait of a man and his times."
— All About Jazz

"Tad Hershorn's Norman Granz: The Man Who Used Jazz for Justice delivers an engaging and multisided retrospective on the culture altering jazz impresario. Hershorn writes with passion and an eye for reconstructing history with rich descriptions, narration, and humor. He imbues his writing with equal parts admiration and critical analysis. . . . Arguably, one of the best biographies of the year, Hershorn approaches his subject with a critical eye, allowing readers to delve deeper into the early jazz industry and fully live the challenges and successes of the Granz empire."
— PopMatters

"Exhaustively researched comprehensive biography. . . . The story is told through a combination of personal interviews with Granz, never-published ephemera from his estate and interviews with musicians, historians and friends."
— Downbeat

"Granz's views on and struggles toward racial equality, respect, and financial viability for musicians is perhaps the most engaging element of his life—and of this exceptional book. Hershorn . . . has crafted the first in-depth biography of Granz, and his voluminous research combined with an engaging, journalistic tone makes this a satisfying read."
— Library Journal

"Hershorn has chosen a good subject - it's surprising that no one thought of a volume on Granz before now, and he has done some most impressive research to create this admirable book. It's packed with anecdotes and well-founded detail which make it continuously interesting -- the story never flags."
— Jazz Journal

"[A] diligently researched biography. . . . [Hershorn] meticulously documents the personnel and songs played at many concerts and recording dates while avoiding irrelevant details."
— Stereophile

"Today, as cultural studies of jazz becomes an increasingly important area of scholarship. Hershorn's Norman Granz makes the case that the storied jazz impresario was in fact ahead of his time and anticipated many of the battles that would be fought in jazz when mainstream social values would no longer become acceptable, or considered normative, by the music and its leading musicians. The book also gives an accurate and compelling depiction of the social context in which jazz relentlessly battled for racial justice in the United States among its most important years of development."
— Ethnic and Racial Studies

"A substantial biography - which this is - attempting to describe and explain the uniqueness of the Granz phenomenon is welcome, and overdue. . . . [The book] has resonances well beyond jazz, first as an in-depth study of a fiercely determined man with a deep trust in the correctness of his own instincts; second as a many-faceted portrait of a life fully lived; and finally as an analysis both of musical and social trends of the second half of the twentieth century. . . . A thoughtful, necessary, even vital addition to the history of jazz."
— LondonJazz

"The book is alive with anecdotes about virtually all of the major jazz figures of four decades, and with stories of what Granz achieved for jazz and society. Hershorn's work aids understanding of a crucial period of American history."
— Rifftides

"Provides an in-depth and analytic look at the impresario."
— Jazzwax

"An eye-opening journey through Granz's long career and, more broadly, through the colorful history of the music he championed. . . . Norman Granz is an impressive achievement. Some books are hard to put down. Yet readers may well find themselves putting this one down as they run to their online music libraries, CD shelves, or (for a lucky few) LP collections to listen again to Art Tatum's piano, Ella Fitzgerald's voice, or some other piece of Norman Granz's legacy. That's okay. Listen for a while. Then remember to come back and finish reading the story of how all that essential, irresistible music came to be."
— Washington Independent Review of Books

"Granz could be blunt and gruff but he loved the music and, in Tad Hershorn's admirable book (which includes quotes from his interviews with Granz), he comes across as very human and quite admirable."
 
— Los Angeles Jazz Scene

"Hershorn covers all of the aspects of Granz' career in sharp detail. He is not afraid to question the judgment of his subject, or to specify when Granz made a particularly wrong turn. Although Granz' concert and recording activities tended to dovetail, Hershorn wisely separates them to keep his story clear."
— JazzHistoryOnline

"This book is a valuable addition to the jazz literature."
— The Jazz Society Of Pensacola
University of California Press, 9780520267824, 488pp.
Publication Date: October 17, 2011
About the Author
Tad Hershorn is an archivist at the Institute for Jazz Studies at Rutgers University.