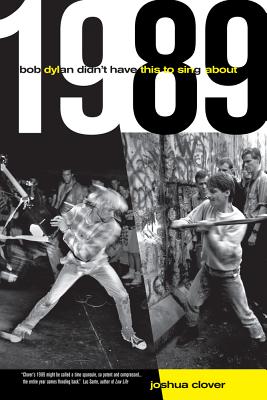 1989
Bob Dylan Didn't Have This to Sing About
Paperback

* Individual store prices may vary.
Other Editions of This Title:
Hardcover (11/1/2009)
Description
In a tour de force of lyrical theory, Joshua Clover boldly reimagines how we understand both pop music and its social context in a vibrant exploration of a year famously described as "the end of history." Amid the historic overturnings of 1989, including the fall of the Berlin Wall, pop music also experienced striking changes. Vividly conjuring cultural sensations and events, Clover tracks the emergence of seemingly disconnected phenomena--from grunge to acid house to gangsta rap--asking if "perhaps pop had been biding its time until 1989 came along to make sense of its sensibility." His analysis deftly moves among varied artists and genres including Public Enemy, N.W.A., Dr. Dre, De La Soul, The KLF, Nine Inch Nails, Nirvana, U2, Jesus Jones, the Scorpions, George Michael, Madonna, Roxette, and others. This elegantly written work, deliberately mirroring history as dialectical and ongoing, summons forth a new understanding of how "history had come out to meet pop as something more than a fairytale, or something less. A truth, a way of being."
Praise For 1989: Bob Dylan Didn't Have This to Sing About…
"[A] dense, provocative, wonderfully written little book. . . . Masterful."
— The Progressive
"[It] is an academic book, but also one that fans of politics and pop culture would savor."
— Carlo Wolff
"[An] extraordinary work of political aesthetics. . . . Clover is a gifted music writer, and his descriptions are vivid, surprising and politically sharp without ever being moralistic."
— Owen Hatherley
"Astute . . . [A] vivid snapshot of a tumultuous moment in pop and history."
— Foreword Magazine
"The book . . . makes a valuable contribution to the efforts of all those who believe in music's importance to our lives."
— Journal Of Popular Music
"Up close, Clover's analysis is interesting an occasionally brilliant. . . . Rich with historical and musical insight. . . . It's the smaller discoveries along the way that make 1989 worth your time."
— Bookforum
"Clover is a deeply learned and hugely enthusiastic student of popular music; his readings of songs are astute, witty, and unflappable, and each works in a larger argument."
— Bookslut
"Music and politics, drugs and society prove to be eerily congruent, and Clover's tough analysis dismantles prevailing myths while revealing even stranger truths."
— Luc Sante, author of
Low Life
"Offers a powerful framework through which pop history can be explored."
— Times Higher Ed Supp (Thes)
"Rewardingly ambitious. [Clover] writes with precision and loads of personality, weaving between global politics and musical genres (rave, hip-hop, grunge) with a fan's intensity."
— Time Out New York
University of California Press, 9780520267879, 198pp.
Publication Date: November 6, 2009
About the Author
Joshua Clover, Associate Professor at the University of California, Davis, is author of The Totality for Kids (UC Press), The Matrix, and Madonna anno domini.