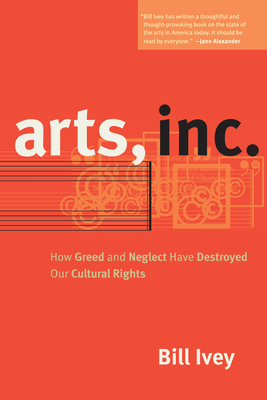 Arts, Inc. (Paperback)
How Greed and Neglect Have Destroyed Our Cultural Rights
University of California Press, 9780520267923, 368pp.
Publication Date: November 11, 2010
Other Editions of This Title:
Hardcover (3/1/2008)
* Individual store prices may vary.
Description
In this impassioned and persuasive book, Bill Ivey, the former chairman of the National Endowment for the Arts, assesses the current state of the arts in America and finds cause for alarm. Even as he celebrates our ever-emerging culture and the way it enriches our lives here at home while spreading the dream of democracy around the world, he points to a looming crisis. The expanding footprint of copyright, an unconstrained arts industry marketplace, and a government unwilling to engage culture as a serious arena for public policy have come together to undermine art, artistry, and cultural heritage—the expressive life of America. In eight succinct chapters, Ivey blends personal and professional memoir, policy analysis, and deeply held convictions to explore and define a coordinated vision for art, culture, and expression in American life.
About the Author
Bill Ivey was the chairman of the National Endowment for the Arts from 1998 through 2001, was director of the Country Music Foundation from 1971 to 1998, and was twice elected Chairman of the National Academy of Recording Arts and Sciences. He presently serves as founding director of the Curb Center for Art, Enterprise, and Public Policy at Vanderbilt University.
Praise For Arts, Inc.: How Greed and Neglect Have Destroyed Our Cultural Rights…
"Cogent consideration of the stakes for all involved. . . Interesting glimpses behind the scenes at the NEA. . . A comprehensive treatment."
— Pw: Nonfiction (2)
"Provocative."
— USA Today
"Ivey is well equipped to lead a fresh discussion about the role of creativity in a healthy democracy."
— Utne
"Explore(s) and define(s) a co-ordinated vision for art, culture and expression in American life."
— Times Higher Ed Sup (Thes)
"Reads like a manifest on cultural happiness and quality of life through access to the arts. . . . Recommended."
— Choice
"A gift. . . . Timely and important."
— Journal Of Folklore Research