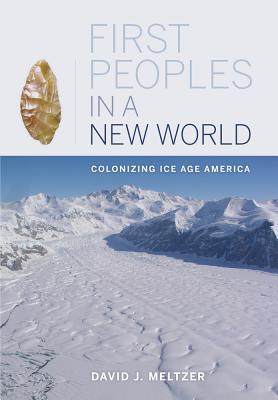 First Peoples in a New World
Colonizing Ice Age America
Paperback

* Individual store prices may vary.
Other Editions of This Title:
Hardcover (5/27/2009)
Description
More than 12,000 years ago, in one of the greatest triumphs of prehistory, humans colonized North America, a continent that was then truly a new world. Just when and how they did so has been one of the most perplexing and controversial questions in archaeology. This dazzling, cutting-edge synthesis, written for a wide audience by an archaeologist who has long been at the center of these debates, tells the scientific story of the first Americans: where they came from, when they arrived, and how they met the challenges of moving across the vast, unknown landscapes of Ice Age North America. David J. Meltzer pulls together the latest ideas from archaeology, geology, linguistics, skeletal biology, genetics, and other fields to trace the breakthroughs that have revolutionized our understanding in recent years. Among many other topics, he explores disputes over the hemisphere's oldest and most controversial sites and considers how the first Americans coped with changing global climates. He also confronts some radical claims: that the Americas were colonized from Europe or that a crashing comet obliterated the Pleistocene megafauna. Full of entertaining descriptions of on-site encounters, personalities, and controversies, this is a compelling behind-the-scenes account of how science is illuminating our past.
Praise For First Peoples in a New World: Colonizing Ice Age America…
"A must read for anyone interested in what is undeniable the greatest debate in American archaeology. . . . Essential."
— Choice

"A masterful exploration and encapsulation of the last two centuries of American archaeology and the first five millennia of the earliest Americans."
— American Scientist

"The book is . . . sharply written and narratively compelling."
— Mark Dailey

"Informative and entertaining."
— E. James Dixon

"A good review of topics and controversies surrounding the peopling of North America."
— Susan C. Vehik

"[Meltzer] has written the most in-depth synthesis of the history of the debate about the early peopling of North America yet published."
— Juliet E. Morrow

"Often lively and occasionally bemused, Meltzer's study—part detective story and part archeological research—is stimulating and sometimes tantalizingly controversial."
— Publishers Weekly: Nonfiction (2)
University of California Press, 9780520267992, 464pp.
Publication Date: November 30, 2010
About the Author
David J. Meltzer is Henderson-Morrison Professor of Prehistory in the Department of Anthropology at Southern Methodist University and a member of the National Academy of Sciences. He is the author of Folsom: New Archaeological Investigations of a Classic Paleoindian Bison Kill (UC Press) and Search for the First Americans, among other books.