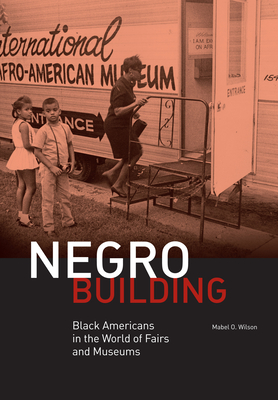 Negro Building
Black Americans in the World of Fairs and Museums
Hardcover

* Individual store prices may vary.
Other Editions of This Title:
Paperback (2/9/2021)
Description
Focusing on Black Americans' participation in world's fairs, Emancipation expositions, and early Black grassroots museums, Negro Building traces the evolution of Black public history from the Civil War through the civil rights movement of the 1960s. Mabel O. Wilson gives voice to the figures who conceived the curatorial content: Booker T. Washington, W. E. B. Du Bois, Ida B. Wells, A. Philip Randolph, Horace Cayton, and Margaret Burroughs. Originally published in 2012, the book reveals why the Black cities of Chicago and Detroit became the sites of major Black historical museums rather than the nation's capital, which would eventually become home for the Smithsonian's National Museum of African American History and Culture, which opened in 2016.
Praise For Negro Building: Black Americans in the World of Fairs and Museums…
"This is a fascinating, sharply analyzed, and well-writ ten account of the evolution of black leaders' efforts to use public forums to define and disseminate African American history and identity on their own terms, as well as to insert African Americans into broader narratives and ideologies of American and/or pan-African history. Of particular note is the value of Wilson's interdisciplinary approach, which brings together methods and insights from fields ranging from art history to architecture, visual culture, and urban studies. By conceptualizing these social spaces as an extension of a black counterpublic sphere, where African Americans could formulate, debate, and articulate ideologies of race and nation that ran counter to white discourse, Wilson helps to place these venues within the broader political context of their time."
— American Historical Review

"Ambitious in its aim and far-reaching in its content, Wilson's Negro Buildings provides a much-needed primer for the study of black-organized exhibitions found at World's Fairs and Expositions from the late nineteenth century to the present. . . . With its interdisciplinary scope and nuanced analysis, scholars in a host of disciplines—African American studies, American Studies, Art History, History, and Museum Studies—will no doubt find the text useful."
— caa.reviews

"Wilson's thoroughly researched and well-written narrative meticulously reconstructs the planning, execution, and impact of numerous expositions and fairs, drawing lines of continuity among them. In addition, ample illustrations provide readers with photographic images of the fairs, exhibition maps, and the artists' prints and sculptures displayed in the exhibits. Wilson's interdisciplinary study should be valuable to scholars of world's fairs, visual culture and architecture, and African American public history."
— Journal of African American History

"A valuable new study . . . a substantive and thoroughly researched monograph."
— Reviews in American History

"Well-researched, thoughtful, bold, and direct."
— Journal of American History
University of California Press, 9780520268425, 464pp.
Publication Date: May 28, 2012
About the Author
Mabel O. Wilson is the Nancy and George Rupp Professor of Architecture, Planning and Preservation; Professor in African American and African Diasporic Studies; and Associate Director of the Institute for Research in African American Studies (IRAAS) at Columbia University.