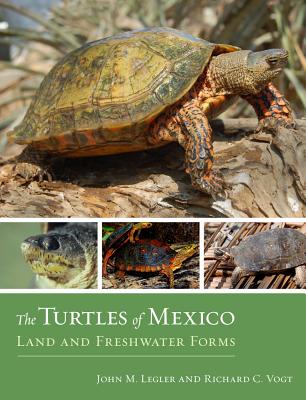 The Turtles of Mexico (Hardcover)
Land and Freshwater Forms
University of California Press, 9780520268609, 416pp.
Publication Date: June 29, 2013
* Individual store prices may vary.
Description
The Turtles of Mexico is the first comprehensive guide to the biology, ecology, evolution, and distribution of more than fifty freshwater and terrestrial turtle taxa found in Mexico. Legler and Vogt draw on more than fifty years of fieldwork to elucidate the natural history of these species. The volume includes an extensive introduction to turtle anatomy, taxonomy, phylogeny, biogeography, and physiology. A key to the turtles of Mexico is included along with individual species accounts featuring geographic distribution maps and detailed color illustrations. Specific topics discussed for each species include habitat, diet, feeding behavior, reproduction, predators, parasites, growth and ontogeny, sexual dimorphism, growth rings, economic use, conservation, legal protection, and taxonomic studies.

This book is a complete reference for scientists, conservationists, and professional and amateur enthusiasts who wish to study Mexican turtles.


About the Author
John M. Legler is Professor Emeritus of Biology at The University of Utah, Salt Lake City. Richard C. Vogt is a researcher at the National Institute for Amazonia Research, in Manaus, Brazil.
Praise For The Turtles of Mexico: Land and Freshwater Forms…
"This volume is the first thorough coverage of the taxonomy, life history, and ecology of all species of Mexican turtles; The worldwide issue of turtle conservation will be greatly served with this thorough presentation. . . . All land managers, conservation biologists,
and herpetologists interested in Mexican biodiversity or turtles in particular should have a copy of this comprehensive coverage of an important group of animals."
— Bernd Heinrich