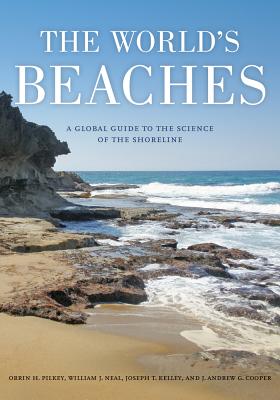 The World's Beaches
A Global Guide to the Science of the Shoreline
Paperback

* Individual store prices may vary.
Other Editions of This Title:
Hardcover (7/1/2011)
Description
Take this book to the beach; it will open up a whole new world. Illustrated throughout with color photographs, maps, and graphics, it explores one of the planet's most dynamic environments—from tourist beaches to Arctic beaches strewn with ice chunks to steaming hot tropical shores. The World's Beaches tells how beaches work, explains why they vary so much, and shows how dramatic changes can occur on them in a matter of hours. It discusses tides, waves, and wind; the patterns of dunes, washover fans, and wrack lines; and the shape of berms, bars, shell lags, cusps, ripples, and blisters. What is the world's longest beach? Why do some beaches sing when you walk on them? Why do some have dark rings on their surface and tiny holes scattered far and wide? This fascinating, comprehensive guide also considers the future of beaches, and explains how extensively people have affected them—from coastal engineering to pollution, oil spills, and rising sea levels.
Praise For The World's Beaches: A Global Guide to the Science of the Shoreline…
"A comprehensive, readable guide to the physical features of many kinds of beaches and some of the threats they face."
— New York Times

"A well-illustrated introduction to the geology and ecology of beaches."
— Scienceblogs.com/The Guardian

"If one wonders how beach systems work and cares about the future, then this is the book to own, read, and share."
— PR Pinet

"This book has a wide appeal. . . . Written in an engaging style."
— Reference & Research Book News / Scitech Book News
University of California Press, 9780520268722, 302pp.
Publication Date: July 26, 2011
About the Author
Orrin H. Pilkey is the James B. Duke Professor of Earth and Ocean Sciences and Director Emeritus of the Program for the Study of Developed Shorelines at Duke University. He is the author of A Celebration of the World's Barrier Islands, among other books. William J. Neal is Emeritus Professor of Geology at Grand Valley State University and coauthor, with Orrin Pilkey, of How to Read a North Carolina Beach: Bubble Holes, Barking Sands, and Rippled Runnels. Joseph T. Kelley is a Professor of Marine Geology at the University of Maine and Chair of the Earth Science Department. He is a co-author with Orrin Pilkey and William Neal of Atlantic Coast Beaches. Andrew Cooper is Professor of Coastal Studies and head of Coastal Research in the School of Environmental Sciences at the University of Ulster in Northern Ireland.