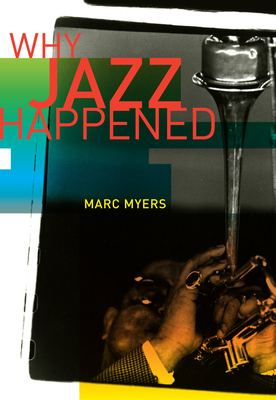 Why Jazz Happened (Hardcover)
University of California Press, 9780520268784, 280pp.
Publication Date: December 10, 2012
Other Editions of This Title:
Paperback (2/26/2019)
* Individual store prices may vary.
Description
Why Jazz Happened is the first comprehensive social history of jazz. It provides an intimate and compelling look at the many forces that shaped this most American of art forms and the many influences that gave rise to jazz's post-war styles. Rich with the voices of musicians, producers, promoters, and others on the scene during the decades following World War II, this book views jazz's evolution through the prism of technological advances, social transformations, changes in the law, economic trends, and much more.

In an absorbing narrative enlivened by the commentary of key personalities, Marc Myers describes the myriad of events and trends that affected the music's evolution, among them, the American Federation of Musicians strike in the early 1940s, changes in radio and concert-promotion, the introduction of the long-playing record, the suburbanization of Los Angeles, the Civil Rights movement, the "British invasion" and the rise of electronic instruments. This groundbreaking book deepens our appreciation of this music by identifying many of the developments outside of jazz itself that contributed most to its texture, complexity, and growth.




About the Author
Marc Myers is a frequent contributor to the Wall Street Journal, where he writes about jazz, rock, soul, and rhythm & blues as well as art and architecture. He blogs daily at www.JazzWax.com, winner of the Jazz Journalists Association's Blog of the Year Award.
Praise For Why Jazz Happened…
"A highly engaging, thoroughly researched book."
— All About Jazz
"'Why Jazz Happened' Makes Its Points Like a Snazzy Lawyer in the Courtroom: Zip, Zam, Zot. . . . Students and fans of jazz will come away enlightened about a huge part of the jazz story that has been mostly untold, before this otherwise intelligent and well-reported book was published."
— Will Layman
"A needed historical overview. . . . Myers presents his argument of 'why jazz happened' in a concise, powerfully convincing style. . . . Highly recommended."
— G. A. Akkerman, University of South Carolina Upstate
"Myers has managed to come up with a fresh take on the [history of jazz's evolution]."
— Willard Manus
"Excellent new jazz history. . . . A refreshingly concrete volume on a genre that stubbornly, sometimes proudly, refuses to be defined."
— The New York City Jazz Record
"Why Jazz Happened contains a treasure trove of insider information . . . a valuable addition to readings in jazz history."
— Mark C. Gridley