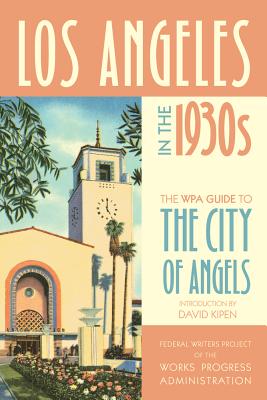 Los Angeles in the 1930s
The WPA Guide to the City of Angels
Paperback

* Individual store prices may vary.
Description
Los Angeles in the 1930s returns to print an invaluable document of Depression-era Los Angeles, illuminating a pivotal moment in L.A.'s history, when writers like Raymond Chandler, Nathanael West, and F. Scott Fitzgerald were creating the images and associations—and the mystique—for which the City of Angels is still known. Many books in one, Los Angeles in the 1930s is both a genial guide and an addictively readable history, revisiting the Spanish colonial period, the Mexican period, the brief California Republic, and finally American sovereignty. It is also a compact coffee table book of dazzling monochrome photography. These whose haunting visions suggest the city we know today and illuminate the booms and busts that marked L.A.'s past and continue to shape its future.
Praise For Los Angeles in the 1930s: The WPA Guide to the City of Angels…
"With a nimble and witty introduction by David Kipen. . . . The guide remains addictively readable."
— Los Angeles Times

"Reading both is like finding hidden treasures. . . . The San Francisco and Los Angeles guidebooks offer both traditional tours of the city as well as historical writing more closely akin to poetry. These are books that people can read aloud to one another."
— Beyondchron

"My favorite new Los Angeles book "
— Kevin Roderick

"A time capsule of old L.A. . . . The book is a faded blueprint to local history, a sample of how the city looked and felt."
— Los Angeles Downtown News

"More than just a tool to help you find the nearest Presbyterian church or a convenient tennis court, the guides, part of the Depression-era Federal Writers Project, included thoughtful essays on history, life and culture in each destination, as well as blow-by-blow tours through city neighborhoods and other information that in many cases remains at least partially relevant (or interesting) today."
— New York Post
University of California Press, 9780520268838, 504pp.
Publication Date: April 5, 2011
About the Author
The Federal Writers Project (FWP) of the Works Progress Administration (WPA) not only provided jobs and income to writers during the Depression, it created for America an astounding series of detailed and richly evocative guides, recounting the stories and histories of the 48 states (plus Alaska Territory and Puerto Rico) and many of the country's major cities. David Kipen served for five years as Director of Literature at the National Endowment for the Arts, where he led the Big Read initiative, and for seven years as book editor and book critic of the San Francisco Chronicle. He operates a lending library/used book store in Los Angeles called Libros Schmibros, and he is also the author of The Schreiber Theory: A Radical Rewrite of American Film History and translator of Cervantes' The Dialogue of the Dogs.