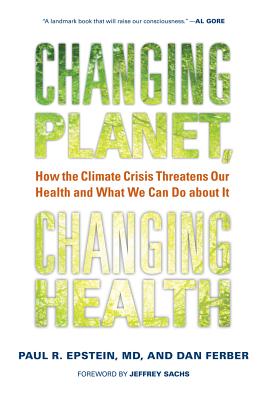 Changing Planet, Changing Health
How the Climate Crisis Threatens Our Health and What We Can Do about It
Hardcover

* Individual store prices may vary.
Other Editions of This Title:
Paperback (4/4/2011)
Description
Climate change is now doing far more harm than marooning polar bears on melting chunks of ice—it is damaging the health of people around the world. Brilliantly connecting stories of real people with cutting-edge scientific and medical information, Changing Planet, Changing Health brings us to places like Mozambique, Honduras, and the United States for an eye-opening on-the-ground investigation of how climate change is altering patterns of disease. Written by a physician and world expert on climate and health and an award-winning science journalist, the book reveals the surprising links between global warming and cholera, malaria, lyme disease, asthma, and other health threats. In clear, accessible language, it also discusses topics including Climategate, cap-and-trade proposals, and the relationship between free markets and the climate crisis. Most importantly, Changing Planet, Changing Health delivers a suite of innovative solutions for shaping a healthy global economic order in the twenty-first century.
Praise For Changing Planet, Changing Health: How the Climate Crisis Threatens Our Health and What We Can Do about It…
"The authors issue an alarming warning that climate change not only threatens health directly, by spreading insect born diseases and reducing air quality, but indirectly as well. They cite Githeko's and other ground-breaking studies proving that a rise in ocean temperatures reinvigorates previously dormant cholera in estuaries, swamps, and oceans. . . . An eye-opener."
— Publishers Weekly
"Because human health is 'the bottom line' at which the many adverse consequences of climate change will converge, Changing Planet, Changing Health is an excellent corrective for climate-change myopia."
— Nature
"A comprehensive read on climate change, its environmental and health impacts and the actions that can be taken against it—as seen through a health professional's eyes. . . . A harrowing look at the road ahead that should urge immediate, proactive change."
— Kirkus Reviews
"An engaging book on climate change and public health."
— American Scientist
"Makes it clear that the health threats from climate change are here, and need immediate coordinated effort to keep in check."
— E! The Environmental Magazine
"Throughout, this book emphasizes complex interactions and highlights unintended consequences. It identifies solutions—some drastic—and refutes, with impressive evidence, political/financial efforts to deny climate change and discredit climate scientists. . . . Highly Recommended."
— CHOICE
"This book provides a useful and interesting introduction to this still unsettled segment of the climate debate."
— Natural Hazards Observer
"Absorbing and informative."
— National Catholic Reporter
"If ever there was a book that ought to be on everybody's reading bucket list this is it. But read it now rather
than later since health and global environment expert Epstein and award-winning science journalist Ferber
believe there is still, albeit limited, time to begin mitigating the effects of human actions on the changing
climate."
— Booklist
"This eye-opening book reveals how climate change alters patterns of disease and contributes to many of the world's most serious human health threats."
— Taste For Life Magazine
University of California Press, 9780520269095, 368pp.
Publication Date: April 4, 2011
About the Author
Paul R. Epstein, MD, MPH, (1943–2011) was Associate Director of the Center for Health and Global Environment at Harvard Medical School and a medical doctor trained in tropical health. He contributed to the work of the Intergovernmental Panel on Climate Change, which was awarded the Nobel Peace Prize in 2007. Dan Ferber is a contributing correspondent for Science magazine. His feature articles have appeared in many publications, including Popular Science, Audubon, and Nature Conservancy.