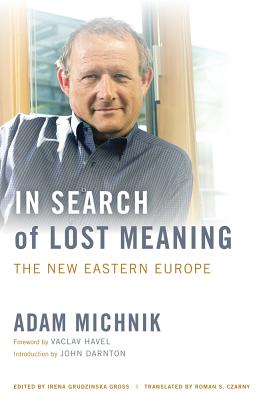 In Search of Lost Meaning (Hardcover)
The New Eastern Europe
University of California Press, 9780520269231, 248pp.
Publication Date: May 23, 2011
* Individual store prices may vary.
Description
In this new collection of essays, Adam Michnik—one of Europe's leading dissidents—traces the post-cold-war transformation of Eastern Europe. He writes again in opposition, this time to post-communist elites and European Union bureaucrats. Composed of history, memoir, and political critique, In Search of Lost Meaning shines a spotlight on the changes in Poland and the Eastern Bloc in the post-1989 years. Michnik asks what mistakes were made and what we can learn from climactic events in Poland's past, in its literature, and the histories of Central and Eastern Europe. He calls attention to pivotal moments in which central figures like Lech Walesa and political movements like Solidarity came into being, how these movements attempted to uproot the past, and how subsequent events have ultimately challenged Poland's enduring ethical legacy of morality and liberalism. Reflecting on the most recent efforts to grapple with Poland's Jewish history and residual guilt, this profoundly important book throws light not only on recent events, but also on the thinking of one of their most important protagonists.
About the Author
Adam Michnik was a leader of the dissident movement in Poland. He is editor in chief of Poland's largest newspaper, Gazeta Wyborcza, and is the author of Letters from Prison and Letters from Freedom, both from UC Press.
Praise For In Search of Lost Meaning: The New Eastern Europe…
"A powerful collection of essays."
— The Economist
"In special cases, one closes a book with the mind churning, stirred by the arguments within. In still rarer cases, one sets down the book and is moved by the spirit and character of its author. This is one such book."
— Robert Legvold
"[Michnik] is the finest champion of everything that has been achieved [in Poland], an eloquent expositor of the moral issues that underlie the conflicts of his lifetime. His latest collection of essays, In Search of Lost Meaning, does not disappoint."
— Norman Davies
"This profoundly important book throws light not only on recent events, but also on the thinking of one of their most important protagonists."
— Foreword
"Michnik's book is . . . a balanced and insightful treatment of the lessons of history and the notions of power and politics. It is a well-written, erudite work that deserves to be read and reflected upon."
— Joseph Sampson
"Serious inquiry supports civility in public life, inquisition damages it, and whatever reservations some might have about his positions on particular issues, these essays show Michnik to be very much a mainstay of that civility."
— Walter D. Connor
or
Not Currently Available for Direct Purchase