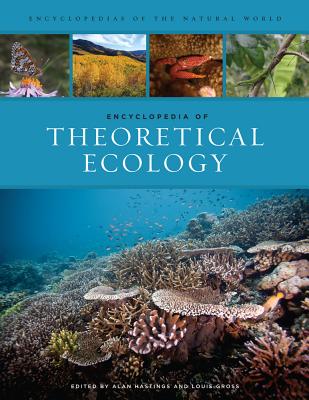 Encyclopedia of Theoretical Ecology (Encyclopedias of the Natural World #4)
Hardcover

* Individual store prices may vary.
Description
This major reference is an overview of the current state of theoretical ecology through a series of topical entries centered on both ecological and statistical themes. Coverage ranges across scales—from the physiological, to populations, landscapes, and ecosystems. Entries provide an introduction to broad fields such as Applied Ecology, Behavioral Ecology, Computational Ecology, Ecosystem Ecology, Epidemiology and Epidemic Modeling, Population Ecology, Spatial Ecology and Statistics in Ecology. Others provide greater specificity and depth, including discussions on the Allee effect, ordinary differential equations, and ecosystem services. Descriptions of modern statistical and modeling approaches and how they contributed to advances in theoretical ecology are also included. Succinct, uncompromising, and authoritative—a "must have" for those interested in the use of theory in the ecological sciences.
Praise For Encyclopedia of Theoretical Ecology (Encyclopedias of the Natural World #4)…
"An excellent resource for anybody with a wider range of interests in ecology. . . . Its production quality . . . ensure[s] a lasting usefulness."
— Carsten F. Dormann

"A comprehensive, informative, well-written work that should prove highly useful to academic, special, and public libraries. . . . Highly recommended."
— B. C. Thomsett-Scott, University of North Texas

"A readily accessible, wide-ranging source of information."
— John R. Haslett, Division of Integrative Animal Biology, University of Salzburg

"Remarkable and authoritative . . . includes essential readings with clear presentations."
— Evelyne Bremond-Hoslet
University of California Press, 9780520269651, 848pp.
Publication Date: May 31, 2012
About the Author
Alan Hastings is a Distinguished Professor at the University of California Davis in the Department of Environmental Science and Policy. He is the Editor-in-Chief for the Theoretical Ecology Series (Academic Press) and the Journal of Mathematical Biology. Louis Gross is a Professor of Ecology, Evolutionary Biology, and Mathematics, and Director of the Institute of Environmental Modeling at the University of Tennessee.