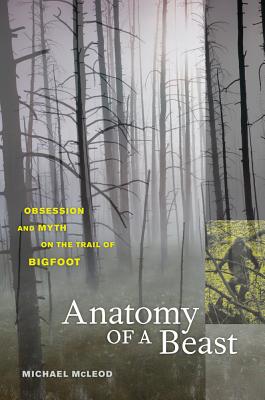 Anatomy of a Beast (Paperback)
Obsession and Myth on the Trail of Bigfoot
University of California Press, 9780520269866, 238pp.
Publication Date: April 4, 2011
Other Editions of This Title:
Hardcover (6/1/2009)
* Individual store prices may vary.
Description
Part history, part road trip, and part biography, this is the true story of a remarkable group of men whose obsession with Bigfoot turned the giant hominid into an American icon. Award-winning journalist Michael McLeod tells of Bigfoot's rise to tabloid stardom in a fast-paced account that begins with his own journey to investigate a famous 1967 film clip of a Bigfoot in a California forest. McLeod proceeds to uncover a trail of clues reaching from the late nineteenth century, when a few ambitious, imaginative naturalists and explorers synthesized historical and indigenous folklore with Darwinian ideas and speculated that a proto-hominid "missing link" might still be alive in remote areas. That speculation would eventually inspire a colorful cast of loggers, hunters, con artists, and businessmen in the twentieth century to create the modern myth of Bigfoot, all of them angling for a piece of a monster that the media and the public still can't get enough of. Told through vividly narrated interviews and anecdotes, Anatomy of a Beast offers a unique perspective on the deep roots of counterfactual thinking—and how obsession and myth are created out of it.
About the Author
Michael McLeod is a writer, producer, and director who has created documentaries for PBS, the PBS series Frontline, the Discovery Channel, and other national venues.
Praise For Anatomy of a Beast: Obsession and Myth on the Trail of Bigfoot…
"McLeod approaches Bigfoot culture the way Susan Orlean approached orchids . . . artfully traces our culture's obsession to walking man-beasts."
— Justin Berton
"A funny, well-written memoir about chasing down the believers."
— Scott Bradfield
"With prose that's both sensitive and probing, McLeod explores this very human aspect, the tendency to see pictures in the clouds, UFOs in the sky, and fragments of evolution in the woods."
— Andi Diehn
"McLeod writes evocatively of a rich, wondrous ecological area known as 'The Klamath Knot.'"
— Nick Owchar
"An entertaining and thoroughly researched travelogue, as much about America's need for mystery as the elusive denizens of the Klamath forests."
— Ben Waterhouse
"Compelling."
— Jason Zasky
"Insightful and amusing."
— Robert Nott
"McLeod approaches Bigfoot culture the way Susan Orlean approached orchids . . . artfully traces our culture's obsession to walking man-beasts."
— Justin Berton