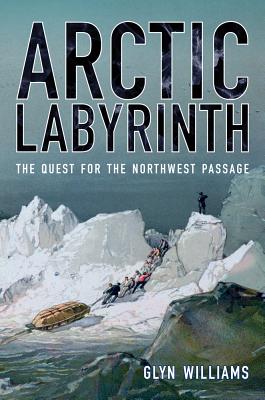 Arctic Labyrinth (Paperback)
The Quest for the Northwest Passage
University of California Press, 9780520269958, 462pp.
Publication Date: March 1, 2010
Other Editions of This Title:
Hardcover (3/1/2010)
* Individual store prices may vary.
Description
The elusive dream of locating the Northwest Passage—an ocean route over the top of North America that promised a shortcut to the fabulous wealth of Asia—obsessed explorers for centuries. While global warming has brought several such routes into existence, until recently these channels were hopelessly choked by impassible ice. Voyagers faced unimaginable horrors—entire ships crushed, mass starvation, disabling frostbite, even cannibalism—in pursuit of a futile goal. In Arctic Labyrinth, Glyn Williams charts the entire sweep of this extraordinary history, from the tiny, woefully equipped vessels of the first Tudor expeditions to the twentieth-century ventures that finally opened the Passage. Williams's thrilling narrative delves into private letters and journals to expose the gritty reality behind the often self-serving accounts of those in charge. An important work of maritime history and exploration—and as exciting a tale of heroism and fortitude as readers will find—Arctic Labyrinth is also a remarkable study in human delusion.
About the Author
Glyn Williams is Emeritus Professor of History at Queen Mary, University of London, and the author of many books including The Death of Captain Cook, Voyages of Delusion, and The Prize of all the Oceans.
Praise For Arctic Labyrinth: The Quest for the Northwest Passage…
"An excellent new book."
— Gary Krist
"The first really comprehensive and analytical book written by an authority on that subject."
— Journal Of World History
"As a masterly synthesis of so much of his previous work, Arctic Labyrinth is a fitting capstone to Williams's authorial career."
— Jonathan Dore
"A fine new book . . . offers a comprehensive narrative."
— Michael J. Ybarra
"Williams charts the entire sweep of this extraordinary history."
— Living The Scientific Life (Scientist, Interrupted)
"This one is essential for all libraries . . . and all serious readers." STARRED REVIEW
— Library Journal
"Uses extensive research into the journals kept, the maps sketched, and newspaper headlines that mark their expeditions to create vivid pictures of these larger-than-life explorers."
— Michael Beeman
"Whether one is new to the topic or has read widely on it, Williams' elegant prose and probing critiques make this a vital contribution to Arctic history."
— David A. James
"Rich detail adds to the well-worn story of futility and human failings that marked the mapping of the far North. . . . Highly recommended."
— R. M. Bryce