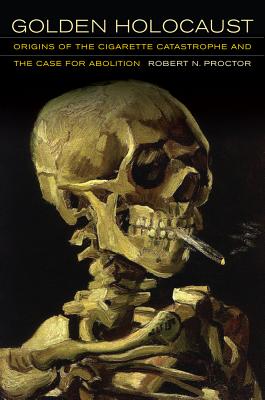 Golden Holocaust
Origins of the Cigarette Catastrophe and the Case for Abolition
Hardcover

* Individual store prices may vary.
Description
The cigarette is the deadliest artifact in the history of human civilization. It is also one of the most beguiling, thanks to more than a century of manipulation at the hands of tobacco industry chemists. In Golden Holocaust, Robert N. Proctor draws on reams of formerly-secret industry documents to explore how the cigarette came to be the most widely-used drug on the planet, with six trillion sticks sold per year. He paints a harrowing picture of tobacco manufacturers conspiring to block the recognition of tobacco-cancer hazards, even as they ensnare legions of scientists and politicians in a web of denial. Proctor tells heretofore untold stories of fraud and subterfuge, and he makes the strongest case to date for a simple yet ambitious remedy: a ban on the manufacture and sale of cigarettes.
Praise For Golden Holocaust: Origins of the Cigarette Catastrophe and the Case for Abolition…
"Draws on previously confidential industry documents and Proctor's own experience as the first historian to testify in court about [industry] lies. What lies? How deep into the pleural linings did they go? All the way."
— Harper's Magazine

"Lays out in head-shaking detail how a handful of companies painstakingly designed, produced, and mass-marketed the most lethal product on the planet."
— Mother Jones

"[A] monumental and sobering indictment."
— Nature

"Proctor documents a breadth and depth of the industry's duplicitous actions that is astounding."
— Science (AAAS)

"A nearly 800-page book that begins as the Bible of the twentieth-century cigarette industry only to end as its millennial counterblaste."
— Joshua Cohen

"Proctor challenges his readers to conceptualize a much happier and healthier world in which the manufacture and sale of cigarettes is prohibited."
— The Huffington Post

"A landmark study in medicine and the history of science, and of an industry [Proctor] describes as 'evil.'"
— Toronto Globe & Mail

"Proctor's extensive use of previously secret tobacco industry documents makes his case convincing, even compelling."
— Katherine E. Kenny Sociology/Science Studies, University of California San Diego

"An invaluable reference for historians interested in the tobacco industry, health and medicine, or marketing in the twentieth century."
— Karen Miller Russell, University of Georgia

"A comprehensive and devastating account of tobacco industry perfidy in promoting the sale of its deadly cigarettes."
— Barron H. Lerner, New York University School of Medicine

"A historian's testimony on his own terms. . . . Entertaining and hard-hitting."
— Carol Benedict, Georgetown University

"Engaging, inexhaustible with information, and driven."
— Chronicle Of Higher Education

"A passionate work and not for the faint of heart."
— American Journal Of Epidemiology

"Proctor's book will be of great interest . . . it debunks fraudulent industry claims past and present, provides credible arguments for banning cigarettes, and delineates steps to take before abolition is politically possible. . . . For historians, Proctor's book particularly calls for serious conversation about ethics and best practices in our era of decreased public support of universities and rising dependence on corporate donors."
— Nan Enstad
University of California Press, 9780520270169, 774pp.
Publication Date: February 28, 2012
About the Author
Robert N. Proctor is Professor of the History of Science at Stanford University and author of Cancer Wars, Racial Hygiene, and The Nazi War on Cancer He is also a Fellow of the American Academy of Arts and Sciences.