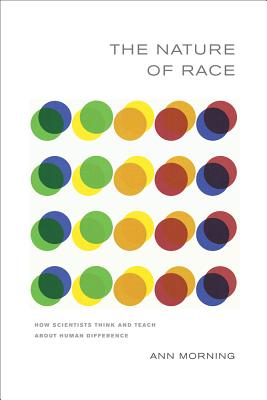 The Nature of Race
How Scientists Think and Teach about Human Difference
Paperback

* Individual store prices may vary.
Other Editions of This Title:
Hardcover (6/24/2011)
Description
What do Americans think "race" means? What determines one's race—appearance, ancestry, genes, or culture? How do education, government, and business influence our views on race? To unravel these complex questions, Ann Morning takes a close look at how scientists are influencing ideas about race through teaching and textbooks. Drawing from in-depth interviews with biologists, anthropologists, and undergraduates, Morning explores different conceptions of race—finding for example, that while many sociologists now assume that race is a social invention or "construct," anthropologists and biologists are far from such a consensus. She discusses powerful new genetic accounts of race, and considers how corporations and the government use scientific research—for example, in designing DNA ancestry tests or census questionnaires—in ways that often reinforce the idea that race is biologically determined. Widening the debate about race beyond the pages of scholarly journals, The Nature of Race dissects competing definitions in straightforward language to reveal the logic and assumptions underpinning today's claims about human difference.
Praise For The Nature of Race: How Scientists Think and Teach about Human Difference…
"Well-written, well-researched, and well-argued, [it] does an excellent job of tracing out the power of knowing how race is defined."
— American Journal of Sociology
"Beginning with a critique of race as a form of exclusion, a measurement of difference, and more generally as an unwarranted mode of sociological profiling, the author moves through a rigorous investigation of the ways in which race is understood, talked about, and likewise silenced by dominant cultural norms and social etiquette. . . . Researchers working on race in the United States should certainly read this book."
— Journal of the Royal Anthropological Institute
"The Nature of Race challenges both the scholarly and the lay reader to rethink taken-for-granted beliefs about the state of racial knowledge in the United States, making it a boon to students and scholars alike. It deserves to be widely taught in both undergraduate and graduate courses on race."
— Journal of American Ethnic History
"The Nature of Race makes a major contribution to sociology by broadening the scope of the field. Mutual understanding and the development of our ideas about race have resulted in a space where the power of science continues to be ever present. Morning finds that beliefs about fixed biological differences among human beings remain dominant among scientists, and as a result are accorded added legitimacy in society."
— Contemporary Sociology
"Morning provides a useful overview and critical analysis in this much-needed study on how contemporary Americans conceptualize and understand race."
— CHOICE
"Well-written, well-researched, and well-argued, The Nature of Race does an excellent job of tracing out the power of knowing how race is defined."
— American Journal of Sociology
University of California Press, 9780520270312, 328pp.
Publication Date: June 24, 2011
About the Author
Ann Morning is Assistant Professor of Sociology in the Department of Sociology at New York University.