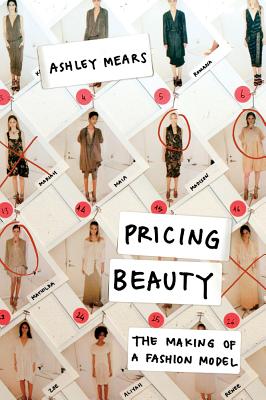 Pricing Beauty
The Making of a Fashion Model
Paperback

* Individual store prices may vary.
Other Editions of This Title:
MP3 CD (5/3/2016)
Paperback, Chinese (7/1/2018)
Description
Sociologist Ashley Mears takes us behind the brightly lit runways and glossy advertisements of the fashion industry in this insider's study of the world of modeling. Mears, who worked as a model in New York and London, draws on observations as well as extensive interviews with male and female models, agents, clients, photographers, stylists, and others, to explore the economics and politics—and the arbitrariness— behind the business of glamour. Exploring a largely hidden arena of cultural production, she shows how the right "look" is discovered, developed, and packaged to become a prized commodity. She examines how models sell themselves, how agents promote them, and how clients decide to hire them. An original contribution to the sociology of work in the new cultural economy, Pricing Beauty offers rich, accessible analysis of the invisible ways in which gender, race, and class shape worth in the marketplace.
Praise For Pricing Beauty: The Making of a Fashion Model…
"Mears has produced a fascinating study. . . . She knits together her revealing interviews and draws on the work of sociologist C. Wright Mills, feminist theorist Catharine MacKinnon, and other social critics. Yet the greatest strength of Pricing Beauty is Mears's own story, one that she artfully threads throughout the book."
— Boston Globe

"This book is sociology at its finest. Mears's rarified status as a model-researcher provides rich insight into the specific nuances of fashion."
— American Journal of Sociology

"Mears gives voice to a group of women who are paid to be seen and not heard."
— Slate

"In addition to utilizing data from interviews with 40 models and 40 clients in London and New York, Mears offers first-hand stories about the humiliation inherent in the industry. She tackles tough and complex subjects, such as the economics of race in modeling (white consumers buy Prada, so advertisements feature white models) and the presence of "institutionalized racism," while also examining male modeling, including the darker "gay for pay" practice. . . . This is a well-researched, well-written, and thorough study of the industry."
— Publishers Weekly

"Moving beyond simplistic analyses of the sexist gaze, Mears is rigorous in her analysis of the conservative sexual and racial stereotypes that models embody, but refreshingly honest about the opportunities and excitement that modeling provides young women and men. Mears's book represents an original, highly readable contribution to the field."
— CHOICE

"Pricing Beauty appeals both to an educated lay audience and academics. It is not theoretically demanding so much as theoretically engaging, a fair trade for clarity and readability. Writing at the crossroads of economic sociology, cultural sociology, and the sociology of gender, Mears covers considerable ground and brings together subfields that normally remain distinct, without becoming unfocused."
— Gender and Society

"Mears has produced a rich ethnography of models, bookers, and clients in the fashion industry that will be valuable for many undergraduate and graduate courses."
— Contemporary Sociology

"Mears leads the reader through the curious world of fashion, and in the process, de-airbrushes the industry. The end result is a nuanced, and deliciously complicated depiction of an industry."
— Tottenville Review
University of California Press, 9780520270763, 328pp.
Publication Date: September 14, 2011
About the Author
Ashley Mears is Assistant Professor of Sociology at Boston University