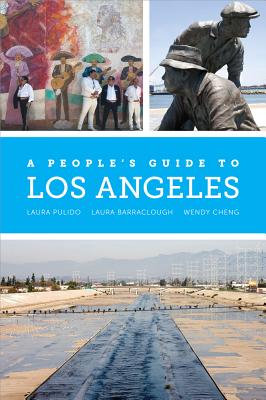 A People's Guide to Los Angeles (A People's Guide Series) (Paperback)
University of California Press, 9780520270817, 328pp.
Publication Date: April 23, 2012
* Individual store prices may vary.
Description
A People's Guide to Los Angeles offers an assortment of eye-opening alternatives to L.A.'s usual tourist destinations. It documents 115 little-known sites in the City of Angels where struggles related to race, class, gender, and sexuality have occurred. They introduce us to people and events usually ignored by mainstream media and, in the process, create a fresh history of Los Angeles. Roughly dividing the city into six regions—North Los Angeles, the Eastside and San Gabriel Valley, South Los Angeles, Long Beach and the Harbor, the Westside, and the San Fernando Valley—this illuminating guide shows how power operates in the shaping of places, and how it remains embedded in the landscape.
About the Author
Laura Pulido is Professor of American Studies and Ethnicity at the University of Southern California. Among her books is Black, Brown, Yellow, and Left: Radical Activism in Los Angeles (UC Press). Laura Barraclough is Assistant Professor of Sociology at Kalamazoo College and the author of Making the San Fernando Valley: Rural Landscapes, Urban Development, and White Privilege. Wendy Cheng is Assistant Professor of Asian Pacific American Studies and Justice & Social Inquiry at Arizona State University.
Praise For A People's Guide to Los Angeles (A People's Guide Series)…
"Imagine Howard Zinn, the late renegade professor who gave us 'A People's History of the United States,' kidnapping Huell Howser and rewriting your Auto Club TourBook. . . . But you don't have to agree with the authors' politics to be intrigued by their work. Even though I've been working on an L.A. guidebook myself for the last 18 months, this 'People's Guide' taught me plenty."
— Christopher Reynolds
"High Gas Prices make staycations more inviting, so start planning with 'A People's Guide to Los Angeles." The focus here is on the people, places, struggles and triumphs that make our area unique."
— Pasadena Star-News
"A beautiful collection of short essays, maps, stories, photographs, directions and secret histories."
— Andrew Tonkovich
"An intriguing and important book of alternative tourism."
— June Sawyers
"A rare and refreshingly new take on the tourist guidebook. . . . O?ers a more balanced and accurate picture of Los Angeles."
— Sean Smith
"F**k Rodeo Drive: A People's Guide to Los Angeles is an L.A. Guidebook for the 99 Percent."
— Whitney Friedlander
"It should become a permanent feature on bookshelves and course syllabi across the region."
— Stefano Bloch
"A rich, full, and fascinating alternative tour of Los Angeles that is sure to hold something of interest for just about anyone who is curious about the subterranean history and hidden current life of the city . . . a groundbreaking and important project."
— Jim Miller
"Offering an interesting alternative to the usual tourist guides, A People's Guide to Los Angeles is a socio-political look at the West Coast's occasionally explosive cultural melting pot that . . . illuminates a few corners that don't turn up in the usual tourist guides."
— Wanderlust
"We've found a great summer read that's giving us a new perspective on the city we love. It's got intrigue, action—and enough shocking stories for a miniseries. Plus, it's all true. . . . Its thoroughly researched, intelligent text is edifying no matter where you stand. And like any good guidebook, there are dining recommendations along the way."
— Purewow
"The masterfully executed book subverts the typical Los Angeles guidebook. . . . It's an invaluable source of little known or forgotten but very necessary L.A. history."
— Mike Sonksen
"This is not your usual roundup of traditional tourist sites in L.A. but, instead, a unique and vastly informative guide to places of interest and importance in the struggles of race, labor, gender, and the environment."
— Brad Hooper
"An indispensable guide for those seeking to understand Los Angeles beyond its well-hyped glitz and glamour."
— Randy Shaw
"A People's Guide is much more than a guidebook, it is a unique and much-needed people's history of Los Angeles; an historical document to resist the erasures, and to capture stories, struggles (both historical and ongoing), successes and defeats, that may otherwise be lost or remain inaccessible to those not intimately familiar with and embedded in the region."
— Human Geography: A New Radical Journal