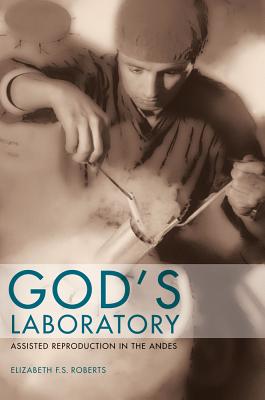 God's Laboratory
Assisted Reproduction in the Andes
Hardcover

* Individual store prices may vary.
Other Editions of This Title:
Paperback (5/25/2012)
Description
Assisted reproduction, with its test tubes, injections, and gamete donors, raises concerns about the nature of life and kinship. Yet these concerns do not take the same shape around the world. In this innovative ethnography of in vitro fertilization in Ecuador, Elizabeth F.S. Roberts explores how reproduction by way of biotechnological assistance is not only accepted but embraced despite widespread poverty and condemnation from the Catholic Church. Roberts' intimate portrait of IVF practitioners and their patients reveals how technological intervention is folded into an Andean understanding of reproduction as always assisted, whether through kin or God. She argues that the Ecuadorian incarnation of reproductive technology is less about a national desire for modernity than it is a product of colonial racial history, Catholic practice, and kinship configurations. God's Laboratory offers a grounded introduction to critical debates in medical anthropology and science studies, as well as a nuanced ethnography of the interplay between science, religion, race and history in the formation of Andean families.
Praise For God's Laboratory: Assisted Reproduction in the Andes…
"Based on field research Elizabeth F. S. Roberts conducted between 2000 and 2007, God's Laboratory is a gloriously rich ethnographic account of the experience of infertility and Ecuador's assisted reproductive technology industry. . . . A masterful work of scrupulous research offering deep and original analyses illustrated with beautiful ethnographic material. Its depth and subtlety make it among the most exciting new research in the anthropology of reproduction . . . Roberts's monograph will be of great interest to scholars, graduate students, and advanced undergraduates in classes on social and medical anthropology, sociology, gender studies, Latin American studies, international development studies, population studies, and public health."
— American Ethnologist

"Roberts's rich ethnography makes a worthy addition to the anthropology of reproduction."
— American Anthropologist

"God's Laboratory makes a significant contribution to social science literatures on medicine, reproduction, and the body; it is a must-read for anyone interested in how new reproductive technologies are received and interpreted in developing countries."
— Latin American Perspectives

"Roberts's stunning ethnography . . . is the perfect anthropological antidote to the North American evangelical right's fetishization of reproductive material as 'life itself' and to the Vatican's condemnation of IVF as the unnatural production of artificial life and killable embryos."
— Current Anthropology

"Roberts contextualizes reproductive assistance in rich ethnographic detail to uncover its diversity of forms including medical, familial, and spiritual. . . . [The book] offers an original analysis of the complicated relationship between technology and religion while encouraging more discussion, including cross-cultural comparisons, on practices of care related to assisted reproduction. An invaluable contribution to medical anthropology, Latin American studies and gender and women's studies, God's Laboratory provides an insightful analysis of the nature of person-making and the role of technology and faith to family formation."
— Hemispheric Institute

"An important contribution to the anthropology of reproduction and Latin American studies, among other fields."
— Somatosphere

"This is surely, really, a book of our times. It offers a skillful ethnography, a quite original cultural analysis, a contribution to science studies as well as medical anthropology, an engaging history of divergent religiosities, and a resource for anyone interested in diverse philosophies of personhood."
— Marilyn Strathern,
University of California Press, 9780520270824, 298pp.
Publication Date: May 25, 2012
About the Author
Elizabeth Roberts is Associate Professor of Anthropology at University of Michigan, investigating scientific and public health knowledge production and its embodied effects in Latin America and the United States.