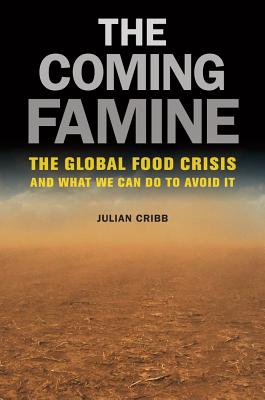 The Coming Famine (Paperback)
The Global Food Crisis and What We Can Do to Avoid It
University of California Press, 9780520271234, 264pp.
Publication Date: August 10, 2010
Other Editions of This Title:
Hardcover (8/10/2010)
* Individual store prices may vary.
Description
In The Coming Famine, Julian Cribb lays out a vivid picture of impending planetary crisis--a global food shortage that threatens to hit by mid-century--that would dwarf any in our previous experience. Cribb's comprehensive assessment describes a dangerous confluence of shortages--of water, land, energy, technology, and knowledge--combined with the increased demand created by population and economic growth. Writing in brisk, accessible prose, Cribb explains how the food system interacts with the environment and with armed conflict, poverty, and other societal factors. He shows how high food prices and regional shortages are already sending shockwaves into the international community. But, far from outlining a doomsday scenario, The Coming Famine offers a strong and positive call to action, exploring the greatest issue of our age and providing practical suggestions for addressing each of the major challenges it raises.
About the Author
Julian Cribb is an award-winning journalist and science writer and the author of The White Death.
Praise For The Coming Famine: The Global Food Crisis and What We Can Do to Avoid It…
"The sheer number of terrifying facts make the book gripping."
— Mark Bittman
"All of us interested in a sustainable food system should read this book and become part of the conversation to determine how we can best redesign the global food system to meet the challenges ahead."
— Audubon Magazine
"Makes clear just how intertwined global warming is with food security."
— Chronicle Of Higher Education
"Cribb . . . advocates making much better use of our brains and investing much more in improving both small and large-scale agriculture."
— Stephen Booth
"Presents a smart and compelling description of the challenges our children will likely face as the world's growing population and our shrinking resources collide. "
— National Catholic Reporter