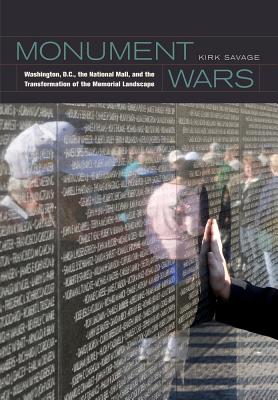 Monument Wars
Washington, D.C., the National Mall, and the Transformation of the Memorial Landscape
Paperback

* Individual store prices may vary.
Other Editions of This Title:
Hardcover (11/1/2009)
Description
The National Mall in Washington, D.C., is "a great public space, as essential a part of the American landscape as the Grand Canyon," according to architecture critic Paul Goldberger, but few realize how recent, fragile, and contested this achievement is. In Monument Wars, Kirk Savage tells the Mall's engrossing story—its historic plan, the structures that populate its corridors, and the sea change it reveals regarding national representation. Central to this narrative is a dramatic shift from the nineteenth-century concept of a decentralized landscape, or "ground"-heroic statues spread out in traffic circles and picturesque parks-to the twentieth-century ideal of "space," in which authority is concentrated in an intensified center, and the monument is transformed from an object of reverence to a space of experience. Savage's lively and intelligent analysis traces the refocusing of the monuments themselves, from that of a single man, often on horseback, to commemorations of common soldiers or citizens; and from monuments that celebrate victory and heroism to memorials honoring victims. An indispensable guide to the National Mall, Monument Wars provides a fresh and fascinating perspective on over two hundred years of American history.
Praise For Monument Wars: Washington, D.C., the National Mall, and the Transformation of the Memorial Landscape…
"A highly original and very important study of the monuments of Washington and their evolution over the past couple of centuries. . . . The book will make you go back to the National Mall, but you'll never again see it in quite the same light."
— Washington Post Book World

"By integrating political, art, and architectural history along with a geographic perspective on space and place, Savage has crafted an excellent and important contribution to our understanding of monuments and memorials, particularly those that represent national identity." 
— Journal of American History

"Savage asks important questions in Monument Wars: How can one stand apart from everyday experience to make public space match the extraordinary and authoritative events of our history? How do monuments in Washington retell the official story of the nation? How have the Mall and its monuments changed national history itself? This last question assumes a big claim, but after reading his compelling interpretation that offers a model for rereading cultural landscape anywhere, one is convinced of the power of that ceremonial landscape in our lives."
— Journal of the Society of Architectural Historians

"A gifted writer, Savage is also a scrupulous cultural and social historian who writes with the political urgency of an engaged public intellectual. . . . a timely, engaging, and thoughtful book."
— American Historical Review

"Savage's discussion of memorial public art in Monument Wars is both impressive in its attention to historical detail and insightful in its analysis,"
— American Quarterly

"While his historiographic strokes may be broad, the prevailing themes Savage weaves into this telling of the more-than-two-hundred-year saga of the Mall's transformation produce a version at once deeper and broader than many of the narratives that have come before. Monument Wars is a work with much new to say, not only about the Mall specifically, but about variations in monuments' and landscapes' forms and meanings, both those intended by their makers and those made by their publics."
— Washington History

"Monument Wars offers an engaging chronological history of Washington."
— Art Documentation

"While there has been a good deal of historical and descriptive writing in recent years about the National Mall and its countless monuments, such as the huge and controversial World War II plaza, Monument Wars by Kirk Savage is one of the few books to take on the larger significance of the development of these grounds and structures on the face of the national capital. And a fascinating book it is."
— H-Net Reviews

"An indispensable guide to the National Mall."
— Public Art Review

"A fascinating chronicle of the heart of America's national imaginary, the National Mall in Washington DC . . . Monument Wars offers its readers a history of U.S. nation building read through the lens of monuments in the nation's capital . . . a must read for everyone interested in American monuments, urban design, and national architecture."
— Amerikastudien / American Studies
University of California Press, 9780520271333, 408pp.
Publication Date: July 11, 2011
About the Author
Kirk Savage is Associate Professor and Chair of the Department of Art and Architecture at the University of Pittsburgh. He is the author of Standing Soldiers, Kneeling Slaves: Race, War, and Monument in Nineteenth-Century America.