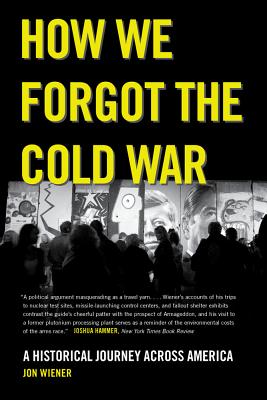 How We Forgot the Cold War
A Historical Journey across America
Hardcover

* Individual store prices may vary.
Other Editions of This Title:
Paperback (3/26/2014)
Description
Hours after the USSR collapsed in 1991, Congress began making plans to establish the official memory of the Cold War. Conservatives dominated the proceedings, spending millions to portray the conflict as a triumph of good over evil and a defeat of totalitarianism equal in significance to World War II. In this provocative book, historian Jon Wiener visits Cold War monuments, museums, and memorials across the United States to find out how the era is being remembered. The author's journey provides a history of the Cold War, one that turns many conventional notions on their heads.

In an engaging travelogue that takes readers to sites such as the life-size recreation of Berlin's "Checkpoint Charlie" at the Reagan Library, the fallout shelter display at the Smithsonian, and exhibits about "Sgt. Elvis," America's most famous Cold War veteran, Wiener discovers that the Cold War isn't being remembered. It's being forgotten. Despite an immense effort, the conservatives' monuments weren't built, their historic sites have few visitors, and many of their museums have now shifted focus to other topics. Proponents of the notion of a heroic "Cold War victory" failed; the public didn't buy the official story. Lively, readable, and well-informed, this book expands current discussions about memory and history, and raises intriguing questions about popular skepticism toward official ideology.


Praise For How We Forgot the Cold War: A Historical Journey across America…
"As popular reading, it's got the humor and wit of Sarah Vowell's Assassination Vacation and James Loewen's Sundown Towns and DJ Waldie's Holy Land. By which I mean it's witty and kinda mean, and exhilarating bad fun."
— Andrew Tonkovich

"Wiener's wit and deft grasp of geopolitics make for one of the season's most intriguing historical books."
— Andrew Milner

"Who knew the Cold War was funny? Wiener's adventures in American historical memory are surprisingly lively."
— Sarah Rothbard

"A provocative and fascinating new book."
— Andrew Gumbel

"A political argument masquerading as a travel yarn. . . . Wiener's accounts of his trips to nuclear test sites, missile-launching control centers and fallout shelter exhibits contrast the guides' cheerful patter with the prospect of Armageddon."
— Joshua Hammer

"A splendid tour de farce of the museums and other memory palaces established largely by the American right in honor of the greatest triumph in human history, the winning of the... oh, remind me, what was it?"
— Tomdispatch

"...An account of memory laced with irony and wit..."
— Kevin Temple

"Wiener is a sharp observer."
— Patrick Hagopian
University of California Press, 9780520271418, 384pp.
Publication Date: October 15, 2012
About the Author
Jon Wiener is Professor of History at the University of California, Irvine. Among his books are Gimme Some Truth: The John Lennon FBI Files (UC Press) and Historians in Trouble: Plagiarism, Fraud and Politics in the Ivory Tower.