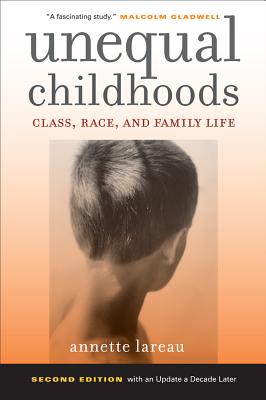 Unequal Childhoods (Paperback)
Class, Race, and Family Life
University of California Press, 9780520271425, 480pp.
Publication Date: September 20, 2011
Other Editions of This Title:
Digital Audiobook (11/13/2011)
* Individual store prices may vary.
Description
Class does make a difference in the lives and futures of American children. Drawing on in-depth observations of black and white middle-class, working-class, and poor families, Unequal Childhoods explores this fact, offering a picture of childhood today. Here are the frenetic families managing their children's hectic schedules of "leisure" activities; and here are families with plenty of time but little economic security. Lareau shows how middle-class parents, whether black or white, engage in a process of "concerted cultivation" designed to draw out children's talents and skills, while working-class and poor families rely on "the accomplishment of natural growth," in which a child's development unfolds spontaneously—as long as basic comfort, food, and shelter are provided. Each of these approaches to childrearing brings its own benefits and its own drawbacks. In identifying and analyzing differences between the two, Lareau demonstrates the power, and limits, of social class in shaping the lives of America's children.

The first edition of Unequal Childhoods was an instant classic, portraying in riveting detail the unexpected ways in which social class influences parenting in white and African American families. A decade later, Annette Lareau has revisited the same families and interviewed the original subjects to examine the impact of social class in the transition to adulthood.
About the Author
Annette Lareau is the Stanley I. Sheerr Professor at the University of Pennsylvania. She is faculty member in the Department of Sociology with a secondary appointment in the Graduate School of Education. Lareau is the author of Home Advantage: Social Class and Parental Intervention in Elementary Education (1989; second edition, 2000), and coeditor of Social Class: How Does it Work? (2009); and Education Research on Trial: Policy Reform and the Call for Scientific Rigor (2009); and Journeys through Ethnography: Realistic Accounts of Fieldwork(1996).
Praise For Unequal Childhoods: Class, Race, and Family Life…
"Lareau's work is well known among sociologists, but neglected by the popular media; . . . in books like Unequal Childhoods — Lareau has been able to capture the texture of inequality in America. She's described how radically child-rearing techniques in upper-middle-class homes differ from those in working-class and poor homes, and what this means for the prospects of the kids inside."
— New York Times
"This accessible ethnographic study offers valuable insights into contemporary family life in poor, working class and middle class American households. . . . A careful and interesting investigation of life in 'the land of opportunity' and the 'land of inequality.'"
— Publishers Weekly
"At both its best and its worst, social-science research tells us what we already know. Annette Lareau's new book is, however, quite different, and packed with insights into such matters as precisely how middle-class children acquire the habits of success and sense of the entitlement early. . . . as exciting to read as it is depressing in its implication."
— The Scotsman
"Unequal Childhoods captures the social-science imagination just as Betty Friedan's 1963 best seller, The Feminine Mystique, had captured the public imagination in restating the arguments for feminism."
— Chronicle Of Higher Education
"This sensitive, well-balanced book is highly recommended for academic, special, and large public libraries."
— Library Journal