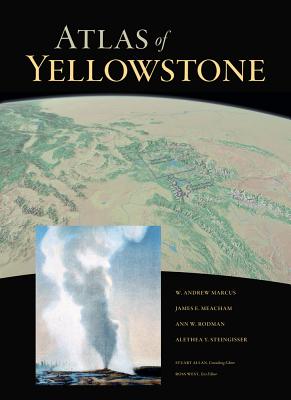 Atlas of Yellowstone
Hardcover

* Individual store prices may vary.
Description
Established in 1872, Yellowstone National Park was the world's first national park. In a fitting tribute to this diverse and beautiful region, the Atlas of Yellowstone is a compelling visual guide to this unique national park and its surrounding area. Ranging from art to wolves, from American Indians to the Yellowstone Volcano, and from geysers to population, each page explains something new about the dynamic forces shaping Yellowstone. Equal parts reference and travel guide, the Atlas of Yellowstone is an unsurpassed resource.

• Features more than 500 maps including detailed topographic maps of Yellowstone and Grand Teton National Parks

• Contributors include more than 100 experts

• Gives place name references for Yellowstone and Grand Teton National Parks and the surrounding region


Praise For Atlas of Yellowstone…
"This thoroughly researched volume is especially suited for academics and historians, but would be equally at home in the library of anyone who wants to research the depths of America's oldest national park."
— High Country News

"A great resource, one you can either sit down with to explore one facet of this intriguing region at a time, or use to find an answer to a question about Yellowstone."
— National Parks Traveler

"I learned more about the forces shaping America's first national park and its sister preserve, Grand Teton National Park, in this single book than I have from any other reference guide in recent years."
— Jackson Hole News & Guide

"A must have for fans of Yellowstone National Park!"
— The Guardian

"The atlas touches on just about anything one could want to know about Yellowstone, from how the geysers work to where the bears are. It will keep anyone who loves maps, charts and data tables turning pages long into the night."
— The Oregonian

"Whether you're planning a visit or looking for a gift for a park enthusiast, this atlas has something for everyone."
— Alaska Airlines Magazine

"When I say that Atlas of Yellowstone has everything there is to know about our first national park, it isn't an exaggeration. . . . If there's something you want to know about Yellowstone, this is the place to look . . . The concentration and quality of information in this book is unmatched, and is a must-have for Yellowstone lovers everywhere."
— Outside Bozeman Magazine

"A visually stunning and readable reference . . . More than 500 maps, photos—including aerial and satellite imagery—and charts make this necessary for any collection in the West, and most academic and public libraries will want a copy, too." Starred Review
— Booklist

"Essential. . . . The overall content and layout of this atlas are exceptional. . . . Given the national nature of Yellowstone and the outstanding quality of this atlas, all academic libraries should acquire it; additionally, it is highly recommended for public libraries."
— CHOICE

"What makes this book invaluable is the writing. Someone (or in this case, "somemany") sat down and put all sorts of fascinating, important, and just plain interesting historical, geographical, and scientific information into 'public speak. . . .This is a reference book that can readily be used from elementary to adulthood."
— Crown of the Continent and Greater Yellowstone Magazine
University of California Press, 9780520271555, 296pp.
Publication Date: April 23, 2012
About the Author
W. Andrew Marcus is Professor in the Department of Geography at the University of Oregon. James E. Meacham is Senior Research Associate and InfoGraphics Lab Director in the Department of Geography at the University of Oregon. Ann W. Rodman is GIS Specialist at Yellowstone National Park. Alethea Y. Steingisser is Cartographic Production Manager in the Department of Geography at the University of Oregon.