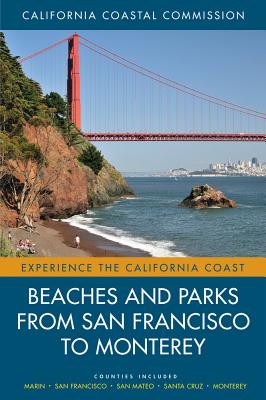 Beaches and Parks from San Francisco to Monterey (Paperback)
Counties Included: Marin, San Francisco, San Mateo, Santa Cruz, Monterey (Experience the California Coast #4)
University of California Press, 9780520271579, 320pp.
Publication Date: March 26, 2012
* Individual store prices may vary.
Description
Many of California's most alluring attractions are found along the coast from San Francisco Bay to Monterey Bay: Alcatraz Island, San Francisco's waterfront, Golden Gate National Recreation Area, Santa Cruz Beach Boardwalk, Monterey Bay Aquarium, and Point Lobos. This easy-to-use, up-to-date, comprehensive guidebook is the essential companion for visitors—sightseers, hikers, swimmers, surfers, campers, birders, boaters, and anglers—who want to explore California's fabulous shoreline. The book describes some 350 shoreline destinations, including every known publicly accessible beach along the coast of Marin, San Francisco, San Mateo, Santa Cruz, and Monterey Counties. It also lists wildlife reserves, marinas, and public parks, and includes descriptions of plants and animals, places where dogs are welcome, nature centers, aquariums, and much more. The guide features:

• 53 color maps that show topography, roads, trails, bicycle routes, and other features

• 299 color illustrations

• Sidebars on shipwrecks, railroads, aviation, and other aspects of California history

• Descriptions of geologic formations, wildflowers, tidepools, and beaches

• Information on recreational outfitters, whale-watching trips, surf shops, and more


About the Author
The California Coastal Commission was created by the voters of California, who adopted an initiative measure in 1972 that formed the Commission and gave it broad powers to plan and protect the coast. Later, the California Coastal Act of 1976 established the Commission as a permanent state agency with a mission to protect, maintain, and enhance the quality of the coastal environment. One of the Commission's principal goals is to maintain public access and public recreational opportunities along the coast, in a manner consistent with environmental preservation.
Praise For Beaches and Parks from San Francisco to Monterey: Counties Included: Marin, San Francisco, San Mateo, Santa Cruz, Monterey (Experience the California Coast #4)…
"Should be on any California road-tripper's reading list . . . sure to delight.
— Megan Sever
"A stellar and richly illustrated guide."
— Chicago Tribune
"In the months to come, beginning in the north, it might be fun to try and visit every beach described in the book."
— Bob Walch
"There's so much more in this tome than a mere listing of Northern California beaches and their adjoining state parks."
— Sacramento Bee