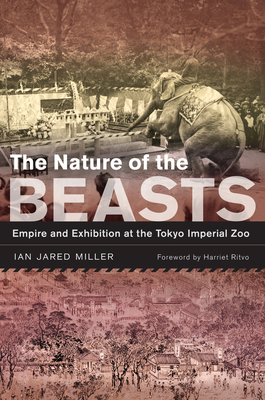 The Nature of the Beasts (Hardcover)
Empire and Exhibition at the Tokyo Imperial Zoo (Asia: Local Studies / Global Themes #27)
University of California Press, 9780520271869, 352pp.
Publication Date: July 19, 2013
Other Editions of This Title:
Paperback (1/5/2021)
* Individual store prices may vary.
Description
It is widely known that such Western institutions as the museum, the university, and the penitentiary shaped Japan's emergence as a modern nation-state. Less commonly recognized is the role played by the distinctly hybrid institution—at once museum, laboratory, and prison—of the zoological garden. In this eye-opening study of Japan's first modern zoo, Tokyo's Ueno Imperial Zoological Gardens, opened in 1882, Ian Jared Miller offers a refreshingly unconventional narrative of Japan's rapid modernization and changing relationship with the natural world. As the first zoological garden in the world not built under the sway of a Western imperial regime, the Ueno Zoo served not only as a staple attraction in the nation's capital—an institutional marker of national accomplishment—but also as a site for the propagation of a new "natural" order that was scientifically verifiable and evolutionarily foreordained. As the Japanese empire grew, Ueno became one of the primary sites of imperialist spectacle, a microcosm of the empire that could be traveled in the course of a single day. The meaning of the zoo would change over the course of Imperial Japan's unraveling and subsequent Allied occupation. Today it remains one of Japan's most frequently visited places. But instead of empire in its classic political sense, it now bespeaks the ambivalent dominion of the human species over the natural environment, harkening back to its imperial roots even as it asks us to question our exploitation of the planet's resources.
About the Author

Ian Jared Miller teaches Japanese history at Harvard University.
Praise For The Nature of the Beasts: Empire and Exhibition at the Tokyo Imperial Zoo (Asia: Local Studies / Global Themes #27)…
"A triumph. . . .archival richness. . . .analytic dexterity and elegant writing."
— Times Literary Supplement
"The Nature of the Beasts is a model of interdisciplinary environmental history and a must-read for anyone interested in the politics of the modern zoo."
— Enviromental History
"A rich political and cultural history of modern Japan."
— Cross-Currents
"Makes an important contribution to our understanding of how governments outside of the United States and Europe have used zoo animals to further political goals."
— American Historical Review
"The Nature of Beasts is a critical intervention in global zoo, environmental and Japanese histories. It stands on its own as a fascinating and thoughtful history, but also provides opportunities for future scholarly exploration into patterns of human dominion over nature across the East Asian world."
— Pacific Affairs
"This is a path-breaking contribution to the history of science, environmental history, and Japanese history."
— Journal of Japanese Studies
"It is difficult to find fault with Miller's carefully researched, elegantly written, and convincingly argued monograph."
— East Asian Science, Technology, and Medicine
"The book provides a rich canvas for a variety of cross-cultural comparisons."
— Monumenta Nipponica