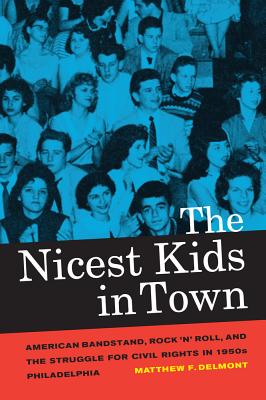 The Nicest Kids in Town
American Bandstand, Rock 'n' Roll, and the Struggle for Civil Rights in 1950s Philadelphia (American Crossroads #32)
Paperback

* Individual store prices may vary.
Description
American Bandstand, one of the most popular television shows ever, broadcast from Philadelphia in the late fifties, a time when that city had become a battleground for civil rights. Counter to host Dick Clark's claims that he integrated American Bandstand, this book reveals how the first national television program directed at teens discriminated against black youth during its early years and how black teens and civil rights advocates protested this discrimination. Matthew F. Delmont brings together major themes in American history—civil rights, rock and roll, television, and the emergence of a youth culture—as he tells how white families around American Bandstand's studio mobilized to maintain all-white neighborhoods and how local school officials reinforced segregation long after Brown vs. Board of Education. The Nicest Kids in Town powerfully illustrates how national issues and history have their roots in local situations, and how nostalgic representations of the past, like the musical film Hairspray, based on the American Bandstand era, can work as impediments to progress in the present.
Praise For The Nicest Kids in Town: American Bandstand, Rock 'n' Roll, and the Struggle for Civil Rights in 1950s Philadelphia (American Crossroads #32)…
"Reveals a hidden history of racial segregation on the United States' first television program centered on the teenage population. . . . Provocative."
— Orange County Register

"Well-researched, tightly-written. . . . Impressively bright, clear, and comprehensive."
— History News Network

"Excellent. . . . Offers a valuable understanding of the . . . melding of African Americans into the national youth culture."
— Choice

"The study illustrates how . . . nostalgic representations of the past . . . can work as impediments to progress in the present."
— Cbq Communication Booknotes Qtly

"The Nicest Kids in Town counters the (false) mythology of American Bandstand with valuable descriptions of 'forgotten' cultural productions."
— Gayle Wald, George Washington University

"Lively and perceptive. . . . Delmont's book offers a subtle, refreshingly interdisciplinary reading of Bandstand as a site of the civil rights struggles in Philadelphia."
— Brian Ward
University of California Press, 9780520272088, 312pp.
Publication Date: February 22, 2012
About the Author
Matthew F. Delmont is Assistant Professor of American Studies at Scripps College.