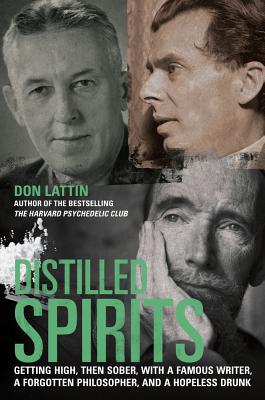 Distilled Spirits
Getting High, Then Sober, with a Famous Writer, a Forgotten Philosopher, and a Hopeless Drunk
Hardcover

* Individual store prices may vary.
Description
Distilled Spirits blends a religion reporter's memoir with the compelling stories of three men—Aldous Huxley, Gerald Heard, and Bill Wilson—who transformed the landscape of Western religion and spirituality in the twentieth century. Huxley, celebrated author of Brave New World, ignited a generation that chased utopian dreams and sought enlightenment through psychedelic drugs. Heard, an Anglo-Irish mystic, journeyed to California with Huxley in the 1930s to lay the foundations for the New Age and human potential movements. Wilson, the co-founder of Alcoholics Anonymous, joined forces with Huxley and Heard in the 1940s and 1950s, when Wilson began a series of little-known experiments to see if LSD could be used to help diehard drunks.

Their life stories are gracefully brought together by veteran journalist Don Lattin. Lattin recounts his own rocky personal journey from 1960s and 1970s counter-culture, through the fast-living, cocaine-fueled 1980s and 1990s, to his long struggle to get sober. By weaving an intimate account of his own recovery with the lives of the book's three central characters, Lattin shows us the redemptive power of story telling, the strength of fellowship, and the power of living more compassionately, one day at a time.
Praise For Distilled Spirits: Getting High, Then Sober, with a Famous Writer, a Forgotten Philosopher, and a Hopeless Drunk…
"A successful peek through many different lenses by a highly motivated truth seeker who is also a meticulous researcher and an excellent storyteller, able to bring to life not just the ideas of three remarkable individuals, but the individuals themselves."
— Peter Magnani

"Vividly written, about an exceptionally interesting subject, and imbued with the kind of gravity and understanding only someone who's been there and back can understand."
— Ellen Cushing

"The religion journalist weaves his own memoir into the stories of three key figures in Western religion: the author of Brave New World, an Anglo-Irish mystic, and the founder of Alcoholics Anonymous."
— Kristin Yinger

"I congratulate Don for an honest exposure of his own remarkable story, wrapped in the amazing tale of these three great spirits from history."
— Carl T. Hall

"Lattin's intriguing assemblage of vignettes illustrates how much of the eruption of new spiritual ideas in 20th-century California can be traced to a surprisingly few key people and moments."
— Cherie Ann Parker

"Right up until the end, this book felt like one of those fancy cocktails: different liquors occupying different layers, each with its own distinctive color. . . . The book is about wending one's way in and out of intoxicating substances in a noble but messy effort to discover some universal truth."
— San Francisco Chronicle

"The key figure in this 'blend of memoir and biography' is Lattin, whose narrative arc might be the strangest. He somehow balanced his religion reportage with a descent into cocaine addiction and alcoholism, and he sees this book as a crucial element in his ongoing sobriety. . . . 'One of the things I learned from AA is that many of us drink in an effort to quench a religious thirst,' he writes. 'It's how we get some temporary relief from the spiritual emptiness.'"
— Kirkus Reviews
University of California Press, 9780520272323, 320pp.
Publication Date: October 18, 2012
About the Author
Don Lattin is the author of The Harvard Psychedelic Club: How Timothy Leary, Ram Dass, Huston Smith and Andrew Weil Killed the Fifties and Ushered in a New Age for America, Jesus Freaks: A True Story of Murder and Madness on the Evangelical Edge, Following Our Bliss: How the Spiritual Ideals of the Sixties Shape our Lives Today and Shopping for Faith: American Religion in the New Millennium. For more information, please visit www.donlattin.com.