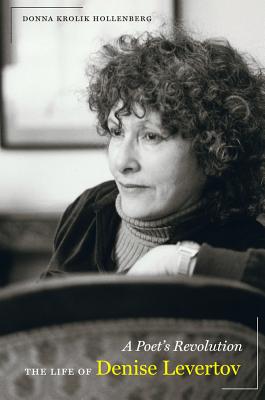 A Poet's Revolution
The Life of Denise Levertov
Hardcover

* Individual store prices may vary.
Description
This first full-length biography of Anglo- American poet and activist Denise Levertov (1923-1997) brings to life one of the major voices of the second half of the twentieth century, when American poetry was a powerful influence worldwide. Drawing on exhaustive archival research and interviews with 75 friends of Levertov, as well as on Levertov's entire opus, Donna Krolik Hollenberg's authoritative biography captures the full complexity of Levertov as both woman and artist, and the dynamic world she inhabited. She charts Levertov's early life in England as the daughter of a Russian Hasidic father and a Welsh mother, her experience as a nurse in London during WWII, her marriage to an American after the war, and her move to New York City where she became a major figure in the American poetry scene. The author chronicles Levertov's role as a passionate social activist in volatile times and her importance as a teacher of writing. Finally, Hollenberg shows how the spiritual dimension of Levertov's poetry deepened toward the end of her life, so that her final volumes link lyric perception with political and religious commitment.
Praise For A Poet's Revolution: The Life of Denise Levertov…
"A beautifully written, impeccably researched biography of a great activist poet whom Kenneth Rexroth called the 'most profound, the most modest, and most moving.'"
— Tom Lavoie

"This biography is the labor of many years and of deep reflection and care. . . . For lovers of Levertov and students of her poetic era and its vast crowd of characters, it will be worth the wait."
— David Mehegan

"Levertov's life is intrinsically interesting; stubbornly individualistic, she subscribed to no particular school of poetry. . . . Her influence remains pervasive."
— Eric Ormsby

"Like a good teacher, a good biographer opens doors or shows us new things in rooms to which we thought we already had access. . . . "A Poet's Revolution" turns the many faces of Denise Levertov's poetry to the light. It's a weighty volume, worth every ounce."
— Richard Wakefield

"Ladies and gentlemen: the poet is in the world. In more ways than one, now that this new biography of Denise Levertov (author of The Poet in the World) has hit the scene."
— Poetry Foundation's Harriet Blog

"Impressive scope."
— Anne Dewey

"A Poet's Revolution is the fullest account to date of key movements in Levertov's life and art: her development as a poet from World War II to the Vietnam War to the political conflicts of the 1980s and 1990s. Hollenberg deftly moves between biographical and historical context and detailed close reading, refracting Levertov's vast body of work"
— Against the Current
University of California Press, 9780520272460, 532pp.
Publication Date: April 17, 2013
About the Author
Donna Hollenberg is a Professor of English at the University of Connecticut, Storrs. She is the author of H.D.: The Poetics of Childbirth and Creativity and the editor of Between History and Poetry: The Letters of H.D. and Norman Holmes Pearson and HD and Poets After.