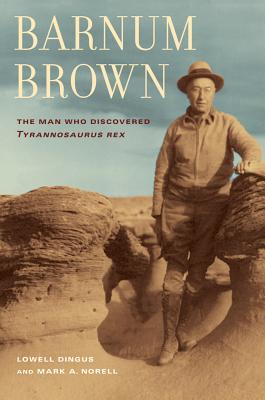 Barnum Brown
The Man Who Discovered <i>Tyrannosaurus rex</i>
Paperback

* Individual store prices may vary.
Other Editions of This Title:
Hardcover (5/3/2010)
Description
From his stunning discovery of Tyrannosaurus rex one hundred years ago to the dozens of other important new dinosaur species he found, Barnum Brown led a remarkable life (1873–1963), spending most of it searching for fossils—and sometimes oil—in every corner of the globe. One of the most famous scientists in the world during the middle of the twentieth century, Brown—who lived fast, dressed to the nines, gambled, drank, smoked, and was known as a ladies' man—became as legendary as the dinosaurs he uncovered. Barnum Brown brushes off the loose sediment to reveal the man behind the legend. Drawing on Brown's field correspondence and unpublished notes, and on the writings of his daughter and his two wives, it discloses for the first time details about his life and travels—from his youth on the western frontier to his spying for the U.S. government under cover of his expeditions. This absorbing biography also takes full measure of Brown's extensive scientific accomplishments, making it the definitive account of the life and times of a singular man and a superlative fossil hunter.
Praise For Barnum Brown: The Man Who Discovered <i>Tyrannosaurus rex</i>…
"A rollicking recollection of Brown."
— Jen Barone
"It is about time someone wrote this book . . . this book tells the story very well . . . Highly recommended."
— M. A. Wilson
"Dingus and Norell do justice to the unconventional, many-faceted if somewhat mysterious Brown."
— Publishers Weekly
"An authoritative biography of Barnum Brown has long been wanting, and the authors of the new volume have done an overall excellent job of summarizing the achievements of one of the most famous fossil hunters of all time."
— Brian Switek
"Intriguing."
— College & Research Libraries News
"Brown liked bonhomie, incurred woman trouble from time to time, and had a wife whose embellishments of life in the field enliven the biography . . .her letter writing and published books about subsequent digs round out this biography and indicate the public interest in "Mr. Bones" during his lifetime. Dingus and Norell ably revive that in this gap-filling scientific biography."
— Gilbert Taylor
"The definitive account of the life and times of a singular man and a superlative fossil hunter."
— Science Blogs
"The definitive account of the life and times of a singular man and a superlative fossil hunter."
— The Birdbooker Report
"Well written."
— Donald M. Henderson
"Occasionally, a biography strikes the perfect note . . . The exhaustive research pays off big for the reader, placing Barnum Brown in the upper ranks of well-written biographies."
— Claire Rudy Foster
"Comprehensive and enjoyable . . . A monumental amount of careful research, consultation with colleagues and source checking clearly went into this volume and it will stand forever as the definitive work on this most important character."
— Darren Naish
"An extremely good book."
— Jeffrey W. Martz
"A scholarly but very readable book. Brown emerges as a character one might enjoy sitting beside on a long airplane flight."
— Jane Manaster
University of California Press, 9780520272613, 384pp.
Publication Date: December 27, 2011
About the Author
Lowell Dingus is Research Associate in Vertebrate Paleontology at the American Museum of Natural History in New York and the Natural History Museum of Los Angeles County. Mark A. Norell is Chair of Paleontology at the American Museum of Natural History. Together with Eugene Gaffney, Dingus and Norell coauthored Discovering Dinosaurs: Evolution, Extinction, and the Lessons of Prehistory (UC Press, winner of an American Library Association Award).