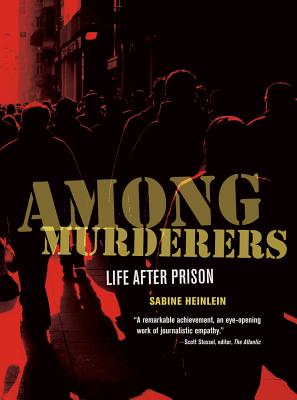 Among Murderers (Hardcover)
Life after Prison
University of California Press, 9780520272859, 256pp.
Publication Date: February 12, 2013
Other Editions of This Title:
MP3 CD (6/7/2016)
* Individual store prices may vary.
Description
What is it like for a convicted murderer who has spent decades behind bars to suddenly find himself released into a world he barely recognizes? What is it like to start over from nothing? To answer these questions Sabine Heinlein followed the everyday lives and emotional struggles of Angel Ramos and his friends Bruce and Adam—three men convicted of some of society's most heinous crimes—as they return to the free world.

Heinlein spent more than two years at the Castle, a prominent halfway house in West Harlem, shadowing her protagonists as they painstakingly learn how to master their freedom. Having lived most of their lives behind bars, the men struggle to cross the street, choose a dish at a restaurant, and withdraw money from an ATM. Her empathetic first-person narrative gives a visceral sense of the men's inner lives and of the institutions they encounter on their odyssey to redemption. Heinlein follows the men as they navigate the subway, visit the barber shop, venture on stage, celebrate Halloween, and loop through the maze of New York's reentry programs. She asks what constitutes successful rehabilitation and how one faces the guilt and shame of having taken someone's life.

With more than 700,000 people being released from prisons each year to a society largely unprepared—and unwilling—to receive them, this book provides an incomparable perspective on a pressing public policy issue. It offers a poignant view into a rarely seen social setting and into the hearts and minds of three unforgettable individuals who struggle with some of life's harshest challenges.
About the Author
Sabine Heinlein's writing has appeared in the Iowa Review, The Brooklyn Rail, City Limits, Tablet Magazine, Die Zeit, Frankfurter Allgemeine Zeitung, and other publications.

Praise For Among Murderers: Life after Prison…
"A deeply compassionate book that poses urgent questions about the end product of imprisonment and the social thirst for vengeance."
— Kirkus Reviews
"Notably free of policy jargon, Sabine's work is about real people and the stories they have to tell."
— Theodore Hamm
"It will set readers thinking and possibly wanting to do more research on the subject."
— Frances O. Sandiford
"This book is more than a tribute to the men interviewed: it asks us to test ourselves on our capacity for forgiveness and then to consider penal power's capacity to destroy the self."
— Laura Piacentini
"If you are looking for a soul touching, look no further and pick up this book. You won't be let down."
— San Francisco Book Review
"Offers glimpses of a world unfamiliar to most of us and offers the opportunity to begin an honest dialogue about crime, rehabilitation, and reentry."
— Marshal Zeringue
"Clear, engaging prose throughout the book provides many thought-provoking insights into the nature of rehabilitation, forgiveness, and redemption by looking at real people who have faced the challenges of re-entry from prison to free society . . . aims a fresh spotlight on the problems and challenges faced by the millions of people who have been released from America's prisons."
— Joel Freedman
"Heinlein puts a face to a population that evokes strong feelings while remaining largely unfamiliar. Among Murderers is an eye-opening look at life after prison and our society's thirst for vengeance."
— Amanda Green
or
Not Currently Available for Direct Purchase